Heritage LC-358 Line 3-Position
One of our most popular chairs. Available in four sizes and has a full chaise pad.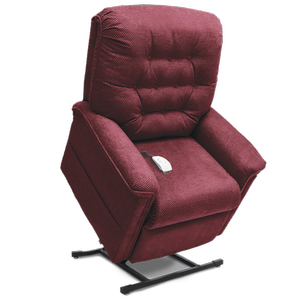 More Information on the Heritage LC-358 Line 3-Position
BACK TO TOP
Reviews
Viewing 1 - 7 of 7
Not good enough.positions none of which are right. ...
03/20/2022
Weaknesses:
No good on positions. Remote has your footrest up and back too far so you can't watch t.v. No separate ability like Golden to move headrest also to move footrest independently.
Reviewer:
marydesales c. from jessup, pa
User Details:
I am the user. Unfortunately for me it isn't good. The remote has 3 positions but I cannot use it. I needed the remote like Golden. Sorry Not Good.
Terrible customer service I will be cancelling the credit...
11/14/2018
Strengths:
Can't tell because I haven't been able to sit in it!!
Weaknesses:
I wanted to buy a second chair for my wife, but won't after our experiences thus far.
Reviewer:
curtis f. from covina, ca
User Details:
Unable to stand, so this chair was to give me more comfort and flexibility. Haven't been able to try to chair because it was missing one of it's le
06/11/2015
Weaknesses:
Too hard, hurts to sit in.
Reviewer:
ljubo k. from gardena, ca (caregiver)
User Details:
My mom, 89 years old, 5ft. 8in. 295 pounds. The chair is too har, not comfortable.
Good chair, just had trouble - delivered wrong color at...
05/02/2015
Strengths:
Material and smooth recline option for width.
Reviewer:
jean g. from quitman, ar
User Details:
90 year old; fracture of right shoulder, OA in knees and partial hip replacement.
06/25/2013
Weaknesses:
the whole chair
Reviewer:
joan l. from bayville, nj (caregiver)
User Details:
my husband Fred is the user, he is 80 and has crippling MS and can't use it comfortably.
05/16/2013
Reviewer:
teddy l. from keller, tx (caregiver)
User Details:
Not provided
03/03/2008
Strengths:
The safety it allows the elderly to have getting up and down. The proper elevation for people with leg issues.
Weaknesses:
Truly, I did not feel any weeknesses. With all the stress I have been under with Mom, I have sat in the chair a couple times myself, my husband too, and took a nap.......
Reviewer:
ruth l. from waretown, nj (caregiver)
User Details:
The product is wonderful, however 1/19/08 Ruth had a stroke and has not been home to truly enjoy it. She came home from re-hab on March 1, 2008 and w
Popular Related Products