Rubber Threshold Ramp
Hidden dovetail design allows you to add or remove rise to your ramp without having to buy a whole new ramp.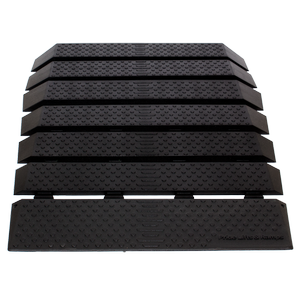 More Information on the Rubber Threshold Ramp
BACK TO TOP
Reviews
Viewing 1 - 6 of 6
the ramp and its options in heights, slope, etc, met my...
06/28/2019
Strengths:
stays in place
Weaknesses:
a little heavy to put together, I am 86, my grandson did the assembly and that worked fine.
Reviewer:
william m. from carlsbad, ca
User Details:
I have the adult form of Muscular Dystrophy....unable to climb steps or stairs
05/16/2019
Reviewer:
larry s. from norwood, pa
The only problem is I have a two inch threshold and I...
05/13/2015
Strengths:
Easy to use if the person has complete strength, in other words I could not install myself because it is too heavy, my disease causes weakness in lower limbs and hands.
Reviewer:
frederick p. from tampa, fl
User Details:
A male, 68 years old suffering from Muscular Dystrophy
Grease leaks on carpets. 40 spots in 30 days
11/24/2014
Weaknesses:
Grease leaks. No reachable place to carry stuff
Reviewer:
freeman g. from santa barbara, ca
User Details:
Not provided
Too light in weight, does not stay in place close to...
02/20/2014
Strengths:
Manufactured from recycled rubber, good design.
Weaknesses:
Too light to stay in place without additional anchoring or adhesive.
Reviewer:
irvin d. from mountain view, ca
User Details:
Age 91, unable to move around home without walker or mobility scooter.
Must be a perfect fit or else will not work.
03/27/2013
Weaknesses:
Not flexible for changing to make fit.
Reviewer:
horace p. from hampton, va
User Details:
I am a 69 year old male with Progressive Multiple Sclerosis.