Rubber Threshold Ramp
Hidden dovetail design allows you to add or remove rise to your ramp without having to buy a whole new ramp.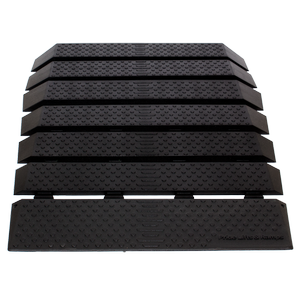 More Information on the Rubber Threshold Ramp
BACK TO TOP
Reviews
Viewing 1 - 4 of 4
07/12/2019
Strengths:
It is of heavy use, have used them in the past and will last for years. Are movable if needed.
Weaknesses:
It would be nice if it came in another color.
Reviewer:
luis m. from bay city, tx (caregiver)
User Details:
I install these on properties where they want a secure but temporary ramp. They hold up very well.
Rubber Threshold Ramp: Review
05/24/2019
Strengths:
Weight, durability.
Weaknesses:
I have been unable to get it fitted.
Reviewer:
neal e. from bloomington, in
User Details:
Interior rise so that my scooter wheel does not slide on the aluminum door jam throwing me into the door jam. It is probably over kill-not installed
Very heavy and hard to handle. Disappointed. Don't agree...
09/29/2014
Reviewer:
dawn l. from clarkston, mi (caregiver)
User Details:
Wheelchair bound
Does not fit door and, therefore, moves easily.
08/20/2012
Strengths:
durable; not too heavy; probably better for outdoors.
Weaknesses:
too long for door threshhold;power chair sometimes drags the ramp behind it; does not stay in place, which makes it dangerous.
Reviewer:
marsha h. from dodge, tx (caregiver)
User Details:
Bought this so power chair could negotiate a change in floor height.