Tracer EX2
The Tracer EX2 is a high quality standard chair with options not available on other models.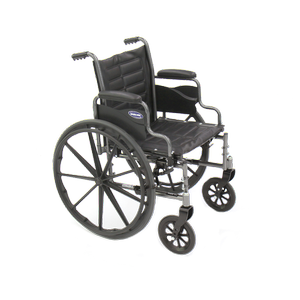 More Information on the Tracer EX2
BACK TO TOP
Reviews
Viewing 1 - 12 of 17
Brakes are so stiff that I can't use them. They're...
04/22/2022
Strengths:
Well built, sturdy
Weaknesses:
Makes noticeable noise when in use.
Reviewer:
carol d. from dayton, oh
User Details:
74-year-old, 120-lb., above-knee amputee. I use wheelchair only upon waking and at bedtime, transferring to and from bed.
Easy to use and smooth riding wheelchair.
05/18/2019
Strengths:
Basic wheelchair at a reasonable price.
Weaknesses:
Wheelbearings are too lightweight.
Reviewer:
theresa b. from kansas city, mo
User Details:
Not provided
The first chair I received had 3 defects.
02/22/2017
Strengths:
It was inexpensive.
Weaknesses:
The first chair I received had a front wheel that would spin but not swivel. The other front wheel would swivel but not spin. One of the leg extensions would not lock in place. The back of the chair is very uncomfortable.
Reviewer:
allan n. from south portland, me
User Details:
I cannot walk very well, so I use this wheelchair to go more than a few feet.
Not very easy to use with a carpeted floor.
10/14/2016
Reviewer:
napoleon r. from chester, va
User Details:
Physical disability due to injuries sustained from a car accident with a broken right arm, broken right ankle and other small neck fractures
This seems to be a good solid product.
05/21/2016
Strengths:
Good solid framework and comfortable seat. Can be easily folded up out of the way.
Weaknesses:
The front wheels are so big they present an obstacle for maneuverability (in and out of doorways, corners, etc.).
Reviewer:
amanda d. from perris, ca
User Details:
I use an electric scooter for most of my needs, but use the wheel chair for inside the house. Not a very demanding use.........
Picture should reflect the product. shows heel straps which...
02/07/2016
Weaknesses:
The part to step on to tip are high
Reviewer:
edna s. from akron, oh
User Details:
90 years old, can walk around the house but unstable to go out.
Quality chair. Just not a good match for mother.
10/29/2015
Weaknesses:
Height-adjusting ability
Reviewer:
patrick d. from middletown, il (caregiver)
User Details:
90-year-old lady who's short; 4'10", 180 lbs. Reset height (lowered), but still feet barely meet the ground.
08/21/2015
Reviewer:
nancy k. from modesto, ca
User Details:
I am 79 years old. I can't walk very long due to my back. I also have had Cerebral Palsy since I was three years old. My left side shows the affects.
Value with acceptable quality
11/19/2014
Strengths:
Manufacturers waranty support-when problem with first chair-it was replaced with return shipping
Reviewer:
donald t. from portsmouth, va (caregiver)
User Details:
72 ,recovering from surgery
I haven't even built it yet.
10/11/2014
Reviewer:
alan h. from san jose, ca (caregiver)
User Details:
This user has MS.
The foot rest are weak and the chair pulls to the right...
08/14/2013
Weaknesses:
The feet rest are weak and when you are rolling it pulls to the right.
Reviewer:
tony g. from moreland, ga
User Details:
Not provided
11/23/2011
Weaknesses:
Poor seat footrests lock poorly
Reviewer:
charles c. from englewood, fl
User Details:
age and physical limitations
Popular Related Products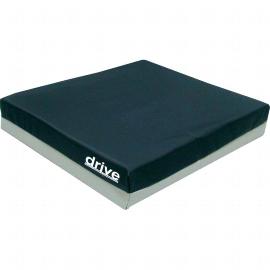 Drive Medical Gel "E" 3