Tracer EX2
The Tracer EX2 is a high quality standard chair with options not available on other models.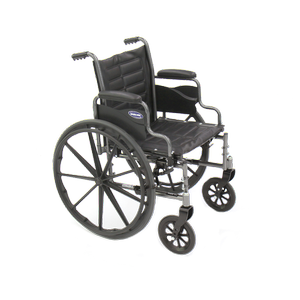 More Information on the Tracer EX2
BACK TO TOP
Reviews
Viewing 1 - 12 of 12
06/02/2019
Reviewer:
david l. from olympia, wa
User Details:
Not provided
04/04/2019
Reviewer:
charles e. from floral park, ny
User Details:
Most of the time in wheel chair. Sits on couch part of the day and goes in a chair for meals.
Would not recommend this. Not sure how long it will last.
07/08/2017
Strengths:
This is one of the worst made manual wheelchairs I have owned. I was disappointed. But for $199 or $179, what can I expect?
Weaknesses:
Made in Mexico. I always thought Invacare products were made in the USA.
Reviewer:
marion s. from eustis, fl
User Details:
Not ambulatory. Am a post-polio patient. Only use the manual wheelchair indoors.
Seat too tall & material uncomfortable.
10/02/2016
Weaknesses:
In order to adjust the seat, you have to get a shop to COMPLETELY take it apart, adjust the height, in order to get the ratio correct. So, I move around by my tippy toes! Plus, it is uncomfortable. I use a cushion.
Reviewer:
debra m. from san leon, tx
User Details:
I am a 55 year old female stroke survivor. With no balance, I'm in a chair all day. I chose the WRONG model for my replacement chair.
Assembly is poor (made in China of course)
05/06/2016
Weaknesses:
Chair is not designed and assembled to prevent the user from putting their hands in the spokes of the wheels. Leather is not cut evenly to be flat and smooth to sit on or lean back on. But again chair was made in China.
Reviewer:
william p. from canandaigua, ny (caregiver)
User Details:
Physical disability
I expected a lightweight product
03/20/2016
Weaknesses:
Handles come off because they are bent slightly and button to secure does not hold.
Reviewer:
mary anne b. from los alamos, nm (caregiver)
User Details:
90 year old man, uses infrequently
01/21/2016
Weaknesses:
The brakes and seat belt.
Reviewer:
joseph f s. from yorktown, ny
User Details:
I use it every day, because I cannot walk.
10/24/2015
Weaknesses:
Ñeeds a seat belt
Reviewer:
annette w. from naiperville, il
User Details:
I use this wheelchair. I am 86 years old and the chair ís fine, but it needs a seat belt as I feel like I'm slipping off.
This chair frame is too weak, resulting in the wheels...
09/16/2015
Strengths:
Nice paint job
Weaknesses:
Frame is too weak to carry a load 30 pounds LESS than listed rating.
Reviewer:
roy j. from st. louis, mo (caregiver)
User Details:
Female, 79 years old, weight 215 lbs, unable to walk unassisted, currently in a nursing home.
This chair was below standard of others I have previously...
07/17/2015
Strengths:
It is lightweight and reasonably comfortable to sit in.
Weaknesses:
This particular chair was not solid, the legs did not attach properly; it was simply of an inferior quality. I have bought this model chair a number of times over several years. Some have been quality chairs and served my purposes well. Others have been of inferior quality. This last one was particularly so. Besides being shaky, the vinyl upholstery was thin and would have lasted only a short time.
Reviewer:
doris f. from grand prairie, tx
User Details:
I use the wheelchair. Due to a car accident in 1961, I have been using a wheelchair for over 50 years. I buy a new one every 1-2 years.
Could not lower the seat because bolts were torqued too...
07/11/2015
Weaknesses:
Welds and torque of fittings.
Reviewer:
sylvia c. from newport news, va (caregiver)
User Details:
Stress fractures in both legs.
THE ABOVE IS NOT A GOOD WAY OF REPORTING QUALITY
01/09/2015
Strengths:
THERE ARE NOT ANY, EXCEPT IT'S CHEAP. IN ONE WAY IT DOES MEET EXPECTATIONS. IT DOES PROVE THE OLD ADDAGE, "YOU GET WHAT YOU PAY FOR".
Weaknesses:
POORLY CONSTRUCTED. BRAKES NOT ADJUSTED, AND DOESN'T WORK AFTER ADJUSTING. CASTERS DO NOT SWIVEL LIKE THEY SHOULD. THE WHEELS DO NOT ROLL VERY WELL. I HAVE ONE THAT IS EXACTLY THE SAME MODEL, MADE IN MEXICO, HAVE HAD IT EIGHT YEARS AND, IT IS A MUCH BETTER WHEELCHAIR. IT'S TOO BAD YOU ARE SELLING JUNK MADE IN CHINA! I PURCHASED ANOTHER FROM A DIFFERRENT VENDOR, JUST LIKE IT. IT IS JUNK ALSO. NEITHER OF THESE WHEELCHAIRS WERE READY FOR USE. FORTUNATELY, I AM A MECH AND WAS ABLE TO MAKE MODIFICATIONS.
Reviewer:
david l. from oregon city, or
User Details:
Not provided
Popular Related Products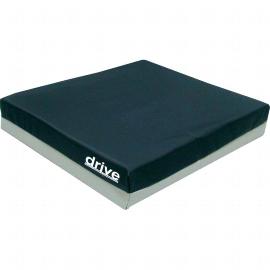 Drive Medical Gel "E" 3