Comforter PR-535 Luxe Edition
Available in SpinLife Exclusive fabrics!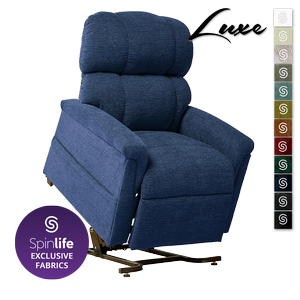 Golden Technologies
(Model No. PR-535LUXE)
VIEW ITEM
More Information on the Comforter PR-535 Luxe Edition
BACK TO TOP
Reviews
Viewing 1 - 12 of 37
looks great but over padded
03/20/2019
Strengths:
motor gets you up quick and smooth
Weaknesses:
too much padding.
Reviewer:
diana d. from orland hills, il
User Details:
Have physical disability need help getting up, in my early 60's. This chair was overstuffed and hard to get comfortable in.
Comforter PR-535 Luxe Edition: Review
12/31/2018
Reviewer:
susan s. from chesapeke, va
User Details:
I am 72 years old and am completey reliable on my chair...I sleep in it. This chair is not comfortable for me..went by chart for my height.
12/20/2018
Strengths:
The chair is easy to use. The heat feature is excellent.
Weaknesses:
The chair is not sturdy or well made. I had to have the chair replaced when the first one began to fall apart in several places after less than a year. The new one is better but still has issues. The mechanics creak and jerk when reclining. I am about 100 lbs. under the weight limit so I don't think it's me causing these problems. I also have a big issue with the depth of the seat. I'm short and I don't comfortably sit in the seat without having to slide myself back into it.
Reviewer:
marilyn v. from jefferson hills, pa
User Details:
58 year old disabled woman. I needed this chair due to joint problems and neuropathy. I have difficulty standing up by myself.
Avoid buying this lift chair. It's not comfortable at all
11/29/2018
Strengths:
There is none. I can't get my feet higher than my heart so no relief from swollen feet. The fabric is itchy. I had to buy a small chair to get the width i need in the seat. I want my money back and i should not have to pay to return it.
Weaknesses:
The problem with the chair is it's just plain uncomfortable. I wanted a soft, wide large size chair what i was forced to order to get the width is uncomfortable and not worth the price i paid. Please get wide seat 24"+ in the large recliners. I have been crying since it came. I had to get a loan to pay for this thru your company. Can you please take it back, and pay the return shipping. I am just an old woman that wanted a comfortable chair. What i got is just a waste of the little resources i have. I want a wide comfortable recliner. I weigh 300lbs and need the width of the seat. Why oh why did i have to buy a small recliner to get the width, I thought i could trust that the chair was truly comfortable. Please help me. I want a chair and want to pay for it but not this chair. Can you help me?
Reviewer:
brian r. from centennial, co
User Details:
Highly disappointed in this lift chair. Very uncomfortable. Wish I could return it. It's like sitting on a block of cement. NOT comfortable at all.
Feel like it could be made with higher quality...
03/15/2018
Reviewer:
james d. from forney, tx
User Details:
This is the most important piece of furniture for me in our house. I use it for resting and sleeping. Cannot sleep in a bed because of arthritis.
Too narrow, chair need to have higher arm rests.
09/26/2017
Strengths:
Chair is made well, nice and sturdy.
Weaknesses:
Chair needs higher arm rests. This one is made for a very small person. Buttons on remote confusing for elderly.
Reviewer:
cynthia s. from mckees rocks, pa (caregiver)
User Details:
I purchased this chair for my 89 year old dad. He is 5'7 and 170 pounds. The chair is so small he looks like he is going to fall out of it. Narrow!
Comforter PR-535 Luxe Edition: Review
09/05/2017
Weaknesses:
Not comfortable cover material. On the back the head pillow is too big. Hard to get on the seat.
Reviewer:
nelson w. from bartlesville, ok
User Details:
I am 89. I have bad legs.
Did not improve getting up from the sitting position over...
08/30/2017
Strengths:
Lots of different positions.
Weaknesses:
The seat is too rounded causing one to slide off the chair prematurely.
Reviewer:
george j. from sherman, tx
User Details:
66 year old disabled with myositis.
My husband's feet up to above his ankles hung over the edge...
08/23/2017
Strengths:
It raises up for him to get in standing position.
Weaknesses:
It is not nearly long enough for my 6'6" husband
Reviewer:
thomas p. from savanna, ga (caregiver)
User Details:
My husband has difficulty getting up from a chair. He is 6' 6" tall .
Most uncomfortable chair I have ever experienced.
08/13/2017
Strengths:
I was able to give it away.
Weaknesses:
It was incredibly uncomfortable for my 5' wife who called me in tears when she tried it. I am 5'7" male. After five minutes in the chair, I had to take two Aleve to help with the back pain. I tried it a second time before giving it away.
Reviewer:
daniel m. from dallas, tx (caregiver)
User Details:
Very small Hispanic lady who thinks it is great
Zero Gravity is not met with this chair.
05/18/2017
Strengths:
Lightweight and comfortable. Fabric feels nice. Lifts well.
Weaknesses:
Needs 2nd motor to lift the footrest only for ZG. Human Touch chairs you feel instant relief in Zero Gravity. I am max height to fit in this chair.
Reviewer:
clifford o. from augusta, ks
User Details:
USMC VET: ALS and major spine issues. Rising on weak legs and nerves pinching is very hard. I'm 5'9" and 140#
Wish I had a showroom to visit so she could sit in the...
04/17/2017
Strengths:
It serves the purpose for which it was purchased.
Weaknesses:
There should be an option to purchase a simple wand for older folks, something thumps when the chair is in the full recline position to a sitting position. Take care with measurements. The arms from the seat to the top of the arm is very short. Be mindful there is no barrier for someone who wishes to sleep in the chair.
Reviewer:
mildred g m. from rhodesdale, md (caregiver)
User Details:
91 year old mother with severe Spinal Stenosis, limited mobility with walker, Sciatica, partially blind due to diabetes and glaucoma.
Popular Related Products