Comforter PR-535 Luxe Edition
Available in SpinLife Exclusive fabrics!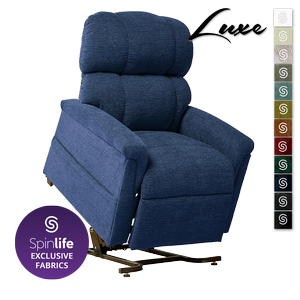 Golden Technologies
(Model No. PR-535LUXE)
VIEW ITEM
More Information on the Comforter PR-535 Luxe Edition
BACK TO TOP
Reviews
Viewing 1 - 12 of 735
Great chair have owned 3 cheaper built chairs they were no...
07/20/2022
Strengths:
Heavy duty and size
Weaknesses:
Thought I had purchased extended leg rest but it wasn't any longer
Reviewer:
allen s. from sayre, ok (caregiver)
User Details:
My wife uses the chair she has a handicap she sits in it most of the day. Really like the chair construction and sturdiness.
07/09/2022
Strengths:
Multiple sitting and lying positions.
Reviewer:
ed m. from wolf creek, mt
User Details:
I sleep in my lift chair and with the variations of sitting and lying down positions, I never get flat spots where my weight meets the chair.
Great firmness for bad backs
05/07/2022
Strengths:
Strengths are the many positions offered and the firmness of the chair.
Weaknesses:
It is rather large and heavy if it needs to be moved.
Reviewer:
sharon s. from monroe township, nj
User Details:
I use this chair for my low back issues. It is rather firm. So if you are looking for something softer, this is not the one for you.
04/24/2022
Strengths:
Does absolutely every position you can think of. The wave massage is really nice. I got a tall, and my feet don't hang off.
Weaknesses:
The only thing i can think of is if the chairs were TOTALLY customizable , i would have added the lumbar and headrest motors.
Reviewer:
linda b. from camp douglas, wi
User Details:
mobility is an issue for me. i happen to also be fairly tall (over 6').
chair is very comfortable
11/09/2021
Strengths:
Very comfortable and loves the controler and ease of use it has. Ease of knowing what controls what. Also love the zero gravity. Have been through 4 recliners trying to find a good one that had the comfort and yet sturdy enough. A little pricey but Love this product
Weaknesses:
Really have nothing bad to say against it
Reviewer:
james m. from mechanicsville, va (caregiver)
User Details:
Disabled male--69ys old..250lb--Has leg amputated
04/24/2021
Strengths:
Wonderful back support
Weaknesses:
Doesn't lay down more
Reviewer:
crystal b. from bountiful, ut
User Details:
I am 74, a disabled woman with lymphoma in both legs
Comforter PR-535 Luxe Edition: Review
04/02/2021
Reviewer:
scott s. from palmyra, va (caregiver)
User Details:
80+ year old Mother in law
01/03/2021
Strengths:
The fact that I bought it with heat and massager was the best thing I could have done. My mother has severe osteoarthritis and suffers from chronic pain..
Reviewer:
marija r. from cleveland, oh (caregiver)
User Details:
Not provided
Nice looking, quiet, and comfortable. Easy to operate.
12/26/2020
Strengths:
Nice material, sufficiently wide, and the multiple positions are wonderful. It looks like it was made specifically for the user. I don't think I have ever seen him appear so relaxed and comfortable. The lift feature makes him less fearful about getting up and into his wheelchair, which was the primary goal.
Weaknesses:
Haven't found any thus far.
Reviewer:
john a. from louisville, ky (caregiver)
User Details:
78 year old male with obesity, diabetes and several other medical problems. Wheelchair dependent, has a pacemaker.
Very happy I purchased my PR 535 from SpinLife
08/21/2020
Strengths:
Independent movement of legs and back. Ease of changing Positions with Programmable positions. Comfort and color of chair covering
Weaknesses:
Seat is too long from back to front. After getting in my chair I have to "wiggle" my bottom back in order to sit up straight without back pain. Then my feet don't touch the floor. Fit good from side to side just from front to back in the seat.
Reviewer:
karlene p. from idaho falls, id
User Details:
Age:82. F. Leg weakness and balance problems make standing very Difficult. Very little use of arms and shoulders. Ll
Since he also sleeps in the chair, the comfort and multiple...
08/20/2020
Strengths:
Being able to elevate his feet above his heart helps alleviate the edema in his legs.
Weaknesses:
We have not identified any weaknesses at this time.
Reviewer:
brenda c. from huntsville, al (caregiver)
User Details:
The chair is being used by my 59 year old disabled son. He is obese and has severe arthritis in both knees.
08/04/2020
Strengths:
comfortable, fashionable, study and soft fabric
Weaknesses:
make the 'tall' unit in a 'wide & tall' option
Reviewer:
terri h. from novato, ca
User Details:
55 yr old, disability retired fireman. Severe back issues.
Popular Related Products