Comforter PR-535 Luxe Edition
Available in 12 SpinLife Exclusive fabrics!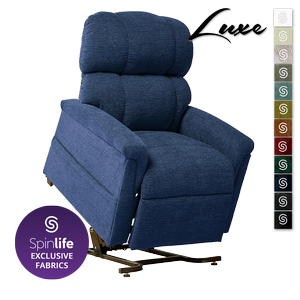 Golden Technologies
(Model No. PR-535)
VIEW ITEM
More Information on the Comforter PR-535 Luxe Edition
BACK TO TOP
Reviews
Viewing 1 - 8 of 8
If I had viewed it in a showroom I would not have bought it
11/25/2018
Strengths:
Available in various sizes
Weaknesses:
It looks and feels like cheap dull drab inexpensive plastic and does not fit well with other leather chairs we have. The arm covers are totally useless and have been assigned to the side pockets they are far to small. There are no instructions for the heat and vibrate controller, there is vibration sound emitted but little else. the heat is not very effective or warm. The TV and other positions raise the chair this makes it necessary to raise the level of side tables. There is no way to turn the handheld controllers off when not in use. Suggest the cables to be changed to have the transformer under the chair. Maybe my expectations were to high but I question whether there is any leather material in the chair, the head protector cover is a good idea but even it has the feel and look of cheap plastic
Reviewer:
donald h. from alexandria, va (caregiver)
User Details:
Elderly person with difficulty walking and physical movement
this chair is not what I wantd or expected
11/16/2018
Strengths:
there is nothing
Reviewer:
linda p. from redmond, or
User Details:
I am disabled with several problems. Three back surgeries, MS, fibromyalgia, arthritis, and more spend the most time in a chair.
Chair is very expensive and it is not very comfortable. ...
11/01/2018
Weaknesses:
Seat is not very comfortable for someone who has a sore tailbone. The arms of the chair are too narrow and do not support my arms well. I have to use a pillow to support my arms correctly, but the chair arm does not support the pillow so it falls off all the time. The setup from the freight company was not good. They did not make sure all of the controls worked and left a part unplugged so the back did not go forward and back. Family member figured out what was wrong. Final order did not match what the original order said. It said I bought the "White Glove Delivery," but when I complained and asked for a partial refund on the delivery, I was told I never paid for that service. I would not buy another chair from this company.
Reviewer:
jean b. from grand junction, co
User Details:
68 years old, has a hard time getting up from sitting positions
unsatified for the money I paid.
10/06/2018
Strengths:
There are none.
Weaknesses:
The vibrator is to weak. It moves to slow. I have been stuck in it already. It just lost power.
Reviewer:
anna b. from sierra vista, az
User Details:
I am a 74 year woman. I have a very bad back and right hip is also in bad condition. I am not happy with my chair.
01/12/2014
Strengths:
If you get a "good" chair, they're great. I have 2. ONE I love. The other 'slams" in the foot area. I was buying a third hoping it would be good like the 1st, but it was slamming bad, and the sewing was terrible. Then replacement chair just as bad.
Weaknesses:
Whoever is making them now. I'd call them a wekness for not fixing this problem with mechanics of the chair (it's dangerous) and the "sewing"...
Reviewer:
madonna m. from orange, ca
User Details:
We have 2 chairs. 1 we love, the other, not so much. I'm 60 and mom 85, with severe scoliosis.
head rest to big, operation is not smooth
08/03/2013
Reviewer:
donna s. from garland, tx
User Details:
63,leg and back problems
uncomfortable--poorly upholstered
07/25/2013
Weaknesses:
insufficient upholstery. remote tether(cord) needs to be a bit longer
Reviewer:
joan s. from catonsville, md
User Details:
80 F osteoarthritis throughout body
First two chairs broke, now on my third.
03/12/2008
Strengths:
Customer service.
Weaknesses:
The products frame was very weak in the in the first two chairs that was shipped. The third chair is on it's way. This will be the last one I try before requesting my money back.
Reviewer:
anthony m. from waldo, ar (caregiver)
User Details:
Not provided
Popular Related Products