Travel Scooters
---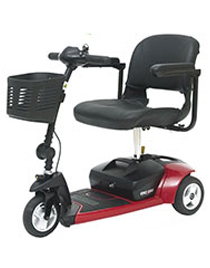 Travel scooters are lightweight, versatile and good for indoor and outdoor activity on level surfaces. Because of their smaller size, they maneuver well in tight spaces and either fold or disassemble for easy stowing in most car trunks or other vehicle compartments.
Travel Scooters are ideal if you:
Often want to take your scooter with you when you travel
Will be riding over smooth surfaces such as hardwoods, tile, flat carpets, maintained sidewalks or paved trails
Want speeds up to 5 miles per hour
Need the scooter for no more than 15 miles between battery charges
Need a seat between 17 and 18 inches wide.
Are 5'10" or less
Why are incline ratings and ground clearance important?


SpinLife Knows:

Even though some travel scooters indicate they have 300 - 350 lbs. weight capacities, their smaller seats can be uncomfortable and unstable for users who weigh 250 lbs. or more.
See our selection of Travel Scooters