Recreational Scooters
---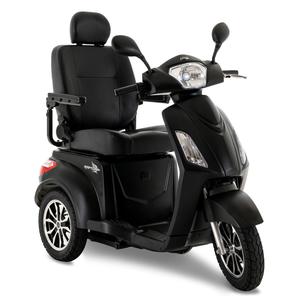 Speedy and stylish, recreational scooters are designed to get you where you need to go quickly and with a little added pizazz. With average top speeds of up to 15 mph and some models with a drive range of up to 43 miles per charge, these zippy scooters are great for getting you around your community and on longer walking paths. These scooters were made for a full day of fun.

Recreational scooters offer many different options. From the smaller models with a shopping basket to the deluxe models with full suspension, light packages and stereo systems, there is something for everyone. Recreational scooters offer the highest top speeds and longest driving ranges. Because of the higher top speeds and larger footprint of the deluxe models, they are not recommended for use inside the home. Also because of their higher top speeds and quick acceleration, it is important to consider the driving ability and safety of the user.

Recreational scooters come in range of models. From small and sporty that can be easily transported to larger models that offer the option to have a passenger. Some models will fit in your trunk and some on a vehicle lift. Storing the larger recreational scooters near where they will be used is the best option. Although not approved for street use, they are great for longer paths, golf clubs, neighborhoods, and outdoor shopping malls.
Recreational Scooters are ideal if you:
Need to get places quickly and with a little extra style
Will not be using the scooter as your main mobility device (Due to their quick acceleration and larger size of many models, SpinLife does not recommend these scooters for indoor use.)
Want speeds up to 15 miles per hour
Want to travel up to 43 miles between battery charges
Are looking for options such as room for a passenger and increased cargo space
See our selection of Recreational Scooters