Full-Sized Scooters
---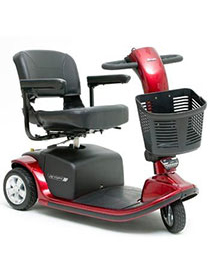 Full-sized scooters are designed for scooter users who want more features and power. The individual pieces of a full-sized scooter are heavier and bulkier than those of a travel scooter, but they are designed for disassembly if needed. Full-sized scooters have an excellent range of standard features and optional upgrades.
When thinking about a full-sized scooter, consider incline rating and ground clearance. This information can be found on the specs tab of the product pages.
Full-size Scooters are ideal if you:
Want a roomier indoor/outdoor scooter
Only need to disassemble your scooter occasionally
Will be riding over smooth surfaces such as hardwoods, tile, flat carpets, maintained sidewalks or paved trails
Prefer a scooter with suspension for a significantly smoother ride
Want speeds up to 8 miles per hour
Want to travel up to 20 miles between battery charges (models vary from 11-20 miles per charge)
Need a seat up to 21 inches wide
Weigh less than 350 lbs (including accessories and personal items)
Incline
Ground Clearance
All-day comfort and many optional upgrades!
See our selection of Full-Sized Scooters