Ventura DLX 4-Wheel
New design with a 400 lb. weight capacity, disassembling frame, and 16 mile drive range.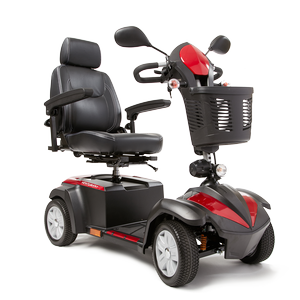 Drive Medical
(Model No. VENTURA420CS)
VIEW ITEM
More Information on the Ventura DLX 4-Wheel
BACK TO TOP
Reviews
Viewing 1 - 12 of 76
06/21/2022
Strengths:
Distance 16 miles.
Weaknesses:
Difficult to get it on the bus.
Reviewer:
vincent b. from shelton, ct
User Details:
Vinny Bosco. Age 79 yrs., Use for mobility around the city,
sits good easy to handle and operate
05/14/2022
Strengths:
supports my weight, had outside and inside speeds
Weaknesses:
Weight of the parts
Reviewer:
daniel l. from edinburg, va
User Details:
I have sciatica and have trouble walking on uneven ground, the scooter allows me to go to a car show and enjoy the day instead of struggling
Ventura DLX 4-Wheel: Review
11/08/2021
Strengths:
I really enjoy my DLX Ventura. I ride down town about a mile from the house an drive by places I don`t notice when in a car .It has a switch i can set for high speed or slow . That is nice when I don`t want to go fast like in a store.I weigh 280 lbs and Going up hill is no problem . It has a lot of power.
Reviewer:
clifford p. from beloit, wi
User Details:
I am 65 and .with Sever COPD and 24 hour Oxygen dependent.I cannot walk much so i dont get around. But with this scooter i go out for a 2 hour ride.
11/06/2021
Strengths:
Ability to move my wife around with ease
Weaknesses:
Turning radius
Reviewer:
robert b. from oxford, ga
User Details:
My wife, who is 75 years old, 350 pounds. She has had both hips replaced along with her shoulders.
Ventura DLX 4-Wheel: Review
08/30/2021
Strengths:
VERY EASY TO DRIVE. TURNS VERY EASY.
Weaknesses:
i have not found anything wrong. I would recommend this scooter to everyone.
Reviewer:
shirley k. from vacaville, ca
User Details:
I live in an assisted living facility. I have very serious feet problems. The Ventura scooter allows me freedom. Am 86 yrs old. Love my scooter.
Has a bit of a whine in back while in motion. Hard to see...
07/16/2021
Strengths:
All seams to perform ok.
Weaknesses:
Hard To see behind with mirrors. Although breaks down into 4 pcs., one PC to heavy to put in back of suv.
Reviewer:
jack s. from rockmart, ga
User Details:
80 years old, COPD and can't walk more than 100ft without being out of breath.
03/13/2021
Strengths:
Its more comfortable an faster then the ones in the stores.
Weaknesses:
Don't have no weaknesses as I know of.
Reviewer:
susan k. from hopkinsville, ky
User Details:
Its hard for me to walk a long period of time before my back hurts and I have to sit, I love my scooter
The scooter is east for my husband to get on and off and...
12/11/2020
Strengths:
It is comfortable, easy to use, and pretty.
Weaknesses:
My husband is a big man; the mirrors are not far enough apart to see behind him. We live alone and were told that the assembly would only be placing the seat on the scooter. Not true! First, getting the scooter off the wooden platform it was on was extremely hard fo me (70 yrs old)! I basically put the scooter together alone. Lifting the heavy seat and putting it on the scooter was also difficult. Clients need to be aware that it is not a simple task. Plus, the scooter did not "go" after charged. We finally called the help line and he explained that the forward and reverse levers need to be held down not just touched. Furthermore, all the lights go on all the time...how do we know when the battery needs charging? The instruction book needs better directions and a trouble shooting section.
Reviewer:
jane w. from brazoria, tx (caregiver)
User Details:
My husband is 72 and is the user of the scooter. He has neuropathy and COPD which prevent him from walking bery far at one time.
11/18/2020
Weaknesses:
Have not found any.
Reviewer:
nell c. from acworth, ga
User Details:
The user has no physical disability just old age and weak knees. I am 87 years of age. It helps me to get around to do yard work.
09/14/2020
Weaknesses:
Needs much better springs
Reviewer:
jon f. from northfield, mn
User Details:
83 year old using outdoors
Awesome I call it my little red Cadillac
09/11/2020
Strengths:
Ease of handling, construction and style.
Weaknesses:
I haven't found any
Reviewer:
darlene l. from east tawas, mi
User Details:
I'm 68 and have Multiple Sclerosis gives me sense independence
Very happy with my scooter
07/04/2020
Strengths:
The way it was made. The features that come with it.
Reviewer:
vicki i. from fort jennings, oh
User Details:
Very pleased with the product I purchased from you. Everything you listed about the function and features met my expectations. Will order again.