Viper Plus GT
Redesigned to feature a height adjustable universal length armrest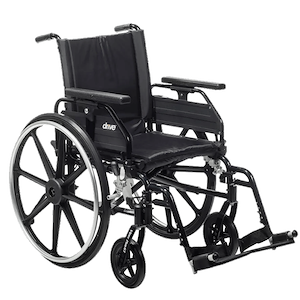 More Information on the Viper Plus GT
BACK TO TOP
Reviews
Viewing 1 - 12 of 50
03/04/2022
Strengths:
Everything I expected it to be.
Reviewer:
george r. from new lenox, il
User Details:
87 years old Retired
Quality product at an affordable price
03/01/2022
Reviewer:
peter m. from cooperstown, ny
User Details:
We are an art museum and keep several wheelchairs on hand for visitors who may need there use for mobility.
Great, lightweight, easy to handle
02/26/2022
Strengths:
Weight so not to be cumbersome so I can use it without needing help to put it in and out of my truck myself
Weaknesses:
If any I have not found one yet
Reviewer:
arthur c. from fayetteville, nc
User Details:
I use it for when I took long trips. I am not able to walk long distances like in a store or hotels to the rooms. I found it easy to put in my truck.
An excellent choice for someone confined to a wheelchair
01/28/2022
Strengths:
Maneuverability, comfort, quality construction. I'm 81 and am able to lift/slide it into the back of our Acura MDX
Reviewer:
sally f. from wilmington, nc (caregiver)
User Details:
I purchased this chair for my 83 year-old husband who recently lost his second leg. He loves it,finds it lighter, more manueverable
I am satisfied with my chair
01/14/2022
Reviewer:
barbara s. c. from dingess, wv
User Details:
I am a 68 yr. Old female with a partial foot amputation, acute neuropathy in both legs and bulging discs in my back, makes it easier to get around.
12/29/2021
Strengths:
Side panels are reinforced; wheels roll very smoothly and silently; overall, a quality product
Weaknesses:
The ONLY weakness if that the handhold on the wheel is very smooth. It looks great but often feels "slick" and I can't get a good grip
Reviewer:
norma d. from newport news, va
User Details:
70 yr old female, balance prodlems requires wheelchair for safety
09/15/2021
Reviewer:
jerry a. from hazen, ar
User Details:
Not provided
The box was beat up, but the chair seems to be fine. was...
06/27/2021
Strengths:
many adjustments, made very well for a china product, fits my mother well , easy to use
Weaknesses:
none as of yet
Reviewer:
john n. from zionsville, in (caregiver)
User Details:
My mother, 96 years old , lives at assisted living facility, so far loves chair , comfortable, easy to move. not happy they sent chair when i wa
06/25/2021
Strengths:
it light weight easy to load behind my seat in my truck
Weaknesses:
None that I know of
Reviewer:
jana t. from dallas, tx
User Details:
Age 56,female, above knee amputation
06/16/2021
Reviewer:
stacey s. from davenport, ia (caregiver)
User Details:
My father has had a stroke and he requires a wheelchair for mobility. He spends his day in his chair or in his bed so he needs it to be comfortable.
The equipment is great. My problem is getting out of a...
06/01/2021
Strengths:
The wheelchair is great
Weaknesses:
no weaknesses
Reviewer:
john c. from brea, ca
User Details:
90 years old, physical ability poor. Problems are physical strength is very weak including getting up out of a chair.
05/20/2021
Reviewer:
arthur i. from tewksbury, ma
User Details:
my wife uses the wheelchair she has a ambulation of her left leg from a car accident she loves this chair a lot