Viper Plus GT
Redesigned to feature a height adjustable universal length armrest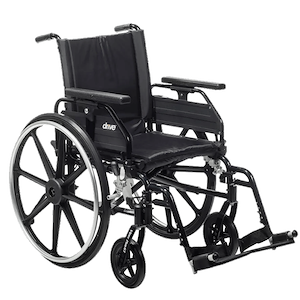 More Information on the Viper Plus GT
BACK TO TOP
Reviews
Viewing 1 - 12 of 26
Overall for price - a good chair
11/02/2022
Strengths:
Armrests that slide back and forth Finished seat with no rough edges Grease-free swing away leg rests Lightweight; fits well in trunk of car
Weaknesses:
There seems to be an instability in the left wheel. The side panels are too high to get a good grip when transferring.
Reviewer:
claudette j. from timberville, va
User Details:
I have muscular dystrophy and use my viper for going out and it is here for me to have a spare chair to replace my chair that I use daily at home.
Chair looks great and sturdy
09/08/2022
Strengths:
So Far from the time I have the chair love the arm rest. I like the back cushion the way you can move it to lean back. Also like the Large wheels that can be taken off with the push of a button.
Weaknesses:
I weigh 225 and this has hard rubber tires and sitting in the chair it squashes the rubber a little and makes the moving of the chair a little difficult.
Reviewer:
mr. w. from albany, or
User Details:
I am 79 years old, male and nine years ago I had my right leg amputated. I need a wheel chair to get around in.
I am very pleased with chair
08/27/2022
Strengths:
Comfort and ease of movement
Weaknesses:
haven't found one yet
Reviewer:
jenise g. from des plaines, il
User Details:
Female 62-67 MS
For this Chair it needs Air filled Tires other that that it...
03/04/2022
Weaknesses:
Needs a set of bike tires to go with it
Reviewer:
charles a r. from daniel, wy
User Details:
69yr old, Bad hip socket/ Unrepairable,
A good product that is comfortable and I can travel with.
02/09/2022
Strengths:
Seat Width Sliding arm rests
Reviewer:
steven k. from chesapeake, va
User Details:
60+ male with ALS
02/04/2022
Reviewer:
nancy j. from new brighton, mn
User Details:
Have multiple sclerosis. The ability to give the back rest just a slight tilt is just what I need for comfort.
04/03/2021
Weaknesses:
Not lite enough
Reviewer:
-erick j. from titusville, fl (caregiver)
User Details:
Not provided
Easy to push for caregiver
02/18/2021
Strengths:
Adjustability is very nice
Weaknesses:
Front wheels too big harder for user to turn and roll forward, would be nice for other front wheel options
Reviewer:
norma r. from palm coast, fl (caregiver)
User Details:
89 year old woman bad had control weak legs in assisted living
08/26/2020
Strengths:
Easy to assemble
Weaknesses:
The seat should have more cushioning.
Reviewer:
mary p. from medford, wi (caregiver)
User Details:
My husband uses the chair. He is 81 years old. He cannot stand on his own. He is very weak and used the chair full time.
lightweight, easy to maneuver
08/01/2020
Strengths:
lightweight, easy to maneuver
Weaknesses:
it took 2 additional phone calls to get the leg rests correct
Reviewer:
linda d. from fairbanks, ak
User Details:
71 years old, mobility problems
07/24/2020
Reviewer:
donald k. from cincinnati, oh (caregiver)
User Details:
My wife cannot walk. The chair does all that I expected.
04/15/2020
Weaknesses:
Wheels should more of softer rubber.
Reviewer:
jeffrey g. from olney, md (caregiver)
User Details:
My wife has MS. She can't walk.