Viper Plus GT
Redesigned to feature a height adjustable universal length armrest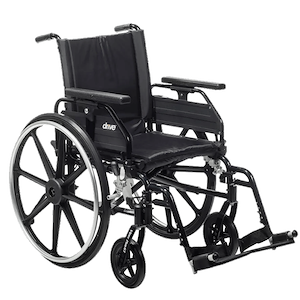 More Information on the Viper Plus GT
BACK TO TOP
Reviews
Viewing 1 - 2 of 2
Could use a little work but it's not awful.
09/15/2023
Strengths:
It feels overall sturdy and comfortable to ride in (if you use a lumbar support pillow, some armrest cushions and get someone else to tackle the wheel locks).
Weaknesses:
1. The adjustable back will only adjust further back but not further forwards. 2. The wheel lock mechanism is too tight to operate and too close to a very hard component that injures the fingers if you try to operate it. 3. The adjustable features of the armrests are great but since these parts are plastic and moveable they feel kind of rickety. 4. The armrest surface is uncomfortably hard.
Reviewer:
karen w. from independence, mo
User Details:
First manual wheelchair for 63 year old with MS.
Poor design in many respects
01/23/2023
Strengths:
The upholstery is a nice fabric. Doesn't retain body heat. Padded canes are nice. Wheels are lightweight and easily removable. Swing up arms for side transfer user friendly.
Weaknesses:
"Padded" arms are hard as rocks. Arms are very wobbly if you transfer from front or even just sitting in chair. Adjustable height arms don't always stay locked in place. Wheels don't allow user to wrap hand around for correct positioning of hand to propel yourself. Requires a lot of assembly and settings adjustments which can't be done while in chair so you are constantly getting out of it to make an adjustment and then back in to see if that's the setting you want to keep. Understandable to a degree but some of the adjustments require the use of tools and such which if you transfer out of it can hardly reach or do yourself. Thankfully I had help with all this. Brakes are extremely hard to engage upon arrival. Had to make adjustments there as well. Very hard on hands overall especially for a woman.
Reviewer:
donna s. from lisbon, oh
User Details:
63 year old amputee
Popular Related Products