Viper Plus GT
Redesigned to feature a height adjustable universal length armrest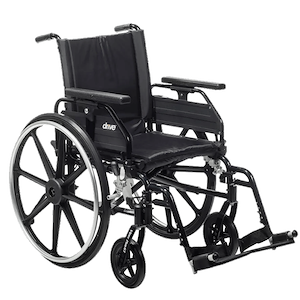 More Information on the Viper Plus GT
BACK TO TOP
Reviews
Viewing 1 - 4 of 4
03/27/2022
Strengths:
The seat is comfortable.
Weaknesses:
The handrails are set too close to the wheel. The seat did not recline as stated in the description.
Reviewer:
rebecca k. from caldwell, id
User Details:
I have a prosthetic right leg and I broke my left ankle so I would be using a wheelchair for a while.
03/29/2020
Reviewer:
robert s. from west hartford, ct
User Details:
Old person age 82, Can.t walk
Sturdy, lightweight wheelchair.
11/04/2019
Weaknesses:
Brakes are hard to set and release.
Reviewer:
shawn c. from clearfield, ut (caregiver)
User Details:
Sturdy and lightweight, Brakes are too hard for user to operate. Overall the wheelchair is easy to transport in my car.
Pretty much satisfied overall with chair.
08/22/2019
Strengths:
Adjustability of chair to fit different body sizes.
Weaknesses:
Very hard tires. Does not roll easily.
Reviewer:
edwin f. from mineral, va
User Details:
75 year old male. Previously very active in sports, building log houses, camping, white water canoeing, etc. Long time suffering/degenerative disc.