Elements
Four individual gel compartments prevent gel migration and redistribute pressure for comfort.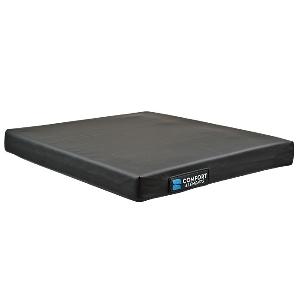 Comfort Company
(Model No. 46G/463G)
VIEW ITEM
More Information on the Elements
BACK TO TOP
Reviews
Viewing 1 - 10 of 10
09/09/2019
Reviewer:
janyce h. from enumclaw, wa (caregiver)
User Details:
Mt son had a stroke and uses a wheelchair. He really doesn't like the cushion because he says it is too thick. He doesn't like change so he uses the
09/01/2018
Reviewer:
michael s. from carrollton, il
User Details:
Wheelchair bound paraplegic
04/27/2018
Weaknesses:
Too thick, does not fit chair seat very well.
Reviewer:
paul k. from kansas city, ks
User Details:
Does not fit very well.
Probably not, because its not comfortable to him.
07/26/2017
Strengths:
I don't know because I purchased it because it said for incontinent people and that it was comfortable.
Weaknesses:
Maybe it's too hard. I really don't know. I know I've paid over fifty dollars and it's not being used.
Reviewer:
david e. from mer rouge, la (caregiver)
User Details:
He's 75 years old. He's incontinent and the wheelchair is still uncomfortable to him with this cushion that was purchased.
05/14/2016
Weaknesses:
Foam did not hold up already torn around gel.
Reviewer:
michael m. from allentown, pa
Uncomfortable to use for any length of time.
08/10/2014
Weaknesses:
Uncomfortable.
Reviewer:
grant h. from stockton, ca
User Details:
85 years old, for use in wheelchair.
Extremely unhappy with product.
05/28/2013
Weaknesses:
Product should have lasted much longer than it has
Reviewer:
christopher a. from danielson, ct
User Details:
I am 47 yrs. of and have an aka. My wgt. is 240 lbs. The first week it was fine, after that it already started to loss it's comfort. I am on disabilit
08/12/2012
Strengths:
it seems sturdy and well made
Weaknesses:
it's too thick and bulky
Reviewer:
joe k. from pottsville, pa
User Details:
Not provided
07/05/2012
Strengths:
it doesn't slide off my seat or move around.
Weaknesses:
The original cover was very slippery and unsafe. I had to order another cover that cost about as much as the cushion. Should have just been a choice, not an additional expense!
Reviewer:
ann w. from cincinnati, oh
User Details:
58 year old female with MS. Use a hoveround.
very hard and uncomfortable to sit on
03/10/2012
Strengths:
clear and reasonable return policy. prompt refund
Weaknesses:
not at all comfortable to sit on.
Reviewer:
christopher h. from vancouver, wa
User Details:
Not provided