Travel Pro 3-Wheel
The most affordable Pride Mobility Scooter is lightweight and made for portability.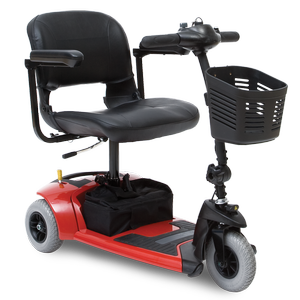 More Information on the Travel Pro 3-Wheel
BACK TO TOP
Reviews
Viewing 1 - 12 of 30
09/25/2023
Strengths:
The lightweight part is important to me, loading an unloading in my van.
Weaknesses:
Seat is hard an sits a little bit too low, to suit me. I've got an old prlde 3 wheel scooter,that I have gotten used to, but I have worn it out, but I still use it, sometimes
Reviewer:
kenneth h. from greenpond, al
User Details:
Im the user. I have Ankylosing spondylitis, the scooter is ok, but. The seat is kinda hard Needs more cushion, and there is a delay in the throttle
10/15/2022
Strengths:
It works very well. The battery has a long live well fully charged.
Weaknesses:
The weakness of this unit is you have to unplug wires and pool pans to take it apart.
Reviewer:
don s. from whitney, tx
User Details:
I use it mostly when I go shopping with my wife. I cannot walk through the stores even holding onto the basket.
04/07/2022
Reviewer:
mark m. from lowell, in
Some features don't work as expected
02/19/2022
Strengths:
Construction is good the seat is very comfortable
Weaknesses:
Wheel base too short, seat is hard to remove, very hard to disconnect the battery for charging.
Reviewer:
robert j. from idaho falls, id (caregiver)
User Details:
This is for my wife, she has bad knees and walking around a store like Walmart is impossible le fo her.
02/04/2022
Strengths:
lightweight and easy to transport
Weaknesses:
needs larger basket on the front also a better place to carry items on back
Reviewer:
judith h. from minneola, fl (caregiver)
User Details:
My husband B J is the user He is 81 and uses it when we take trips to parks ect that require much walking
Requires practice to use properly. Brief printed...
04/02/2021
Strengths:
Compact. Simple. Reasonable price.
Weaknesses:
Battery location makesit VERY difficult for handicapped to plug in charger. Speed control lever DANGEROUSLY sensative. I reduced sensativity with rubber band around lever and handle bar at each end.
Reviewer:
john s. from peachtree city, ga
User Details:
98 year-old male. Neuropathy causes "dead" sensation in legs and feet. Difficult to bend or stoop. See below regarding plugging in charger.
A bit dangerous when first starting out for a tall person...
09/30/2020
Strengths:
Great size for turning into rooms from the hallway in our house.
Weaknesses:
Because of the three wheels it is very unstable. On his first time going down the handicapped ramp going onto the driveway, he turned the whole thing over striking his head against the concrete. He has now gotten better at driving it, but it is very worrisome to me.. When the battery is plugged in it smells electrical. Battery plug hard to use for a person with limited mobility.because the batteries are t stationary
Reviewer:
anthony k. from mcdonough, ga (caregiver)
User Details:
Being used indoors by my husband who had a stroke. He is over 6' tall, 230 lbs with limited mobility
Travel Pro 3-Wheel: Review
04/24/2020
Weaknesses:
Battery is heavy
Reviewer:
laverna w. from renton, wa
User Details:
Not provided
Unit works well for our purpose.
04/09/2020
Strengths:
Light weight and easy to maneuver.
Weaknesses:
Charging port in bad area for people who have difficult time bending over.
Reviewer:
ron f. from green castle, in (caregiver)
User Details:
62 yr old female has trouble walking
A very maneuverable scooter
08/02/2019
Strengths:
The ground clearance is a great help as it allows access to more places.
Weaknesses:
The battery bag is a little worrisome with no securing other than some Velcro.
Reviewer:
ralph r. from mesa, az
User Details:
Retired post polio male with walking difficulties. Living in a 55 plusses community that is handicap aware. Have used scooters since 199
The machine slips out of drive on a fairly regular basis....
07/17/2019
Strengths:
The product is relatively easy to put into my vehicle.
Weaknesses:
An easily detachable battery would make handling the unit much more practical.
Reviewer:
bruce m. from new philidephia, oh
User Details:
I am the end-user. I am handicapped due to Guillain-Barré syndrome. I can walk but the scooter is extremely useful to me. Issues that I have with it a
It took 2 deliveries to make the scooter work.
05/26/2019
Strengths:
Haven't used it yet.
Weaknesses:
I wish that it folded up easier.
Reviewer:
johnetter n. from washington, dc
User Details:
She's on oxygen and has arthritis in both knees