Travel Pro 3-Wheel
The most affordable Pride Mobility Scooter is lightweight and made for portability.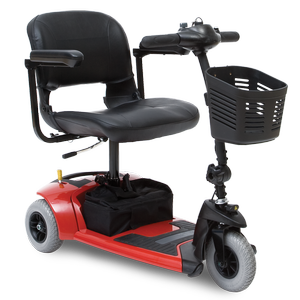 More Information on the Travel Pro 3-Wheel
BACK TO TOP
Reviews
Viewing 1 - 12 of 13
Unstable on uneven sidewalks and power connections become...
07/26/2023
Weaknesses:
Needs better shock absorbers and power connections. Could use a safety device such as on a bicycle on the front to avoid tipping over. (This scooter itself is not responsible for the cities poor upkeep of the sidewalks.) If I would have known the problems I see now I would not have purchased this scooter. Call me sorry. Does this review help or hurt?
Reviewer:
william e. from waukesha, wi
User Details:
I am a 91 year young senior citizen who is using this scooter to get around the neighborhood. Veteran of the Korean War time period .
07/05/2023
Strengths:
It is lightweight. Turns easily.
Weaknesses:
It has fallen over while my mother was using it. It is not sturdy enough and goes far to fast to control it.
Reviewer:
pamela m. from orlando, fl (caregiver)
User Details:
86 year old woman, who is able-bodied but struggles with back pain and breathing problems.
03/29/2023
Weaknesses:
Tri-axel and battery connectors
Reviewer:
kevin c h. from sayreville, nj
User Details:
Not engineered well at all. Would not purchase this model again.
Functional scooter, but not durable
02/27/2023
Strengths:
Tight turning radius. Good motor power. Comfortable seat. 
Weaknesses:
Not durable - seat  and seat back started making lots of creaking noise after only a month of use.  Noisy - motor and/or wheels make quite a bit of noise going forward, and more in reverse.  Easy to wreck door frames - the arm rests have a hex bolt that will gouge door frames or walls if you are not really careful going in reverse
Reviewer:
jeffrey b. from newbury park, ca
User Details:
MS, predominantly lower extremity weakness. Ordinarily a wheelchair user, I purchased this while my regular chair was being fixed
Disappointed that Pride does not take pride in this scooter...
07/11/2019
Strengths:
Very well made and easy to assemble and disassemble for travel.
Weaknesses:
Tips easily and has a clunking sound sometimes on hills. Lift points should be identified.
Reviewer:
albert m. from el cajon, ca
User Details:
male, 76 yrs old, with degenerative discs and spinal stenosis.
06/05/2019
Strengths:
Small:not to bulky for my small apartment.
Weaknesses:
There could be a little more leg room.
Reviewer:
z elaine g. from las vegas, nv
User Details:
71 yr old with knee injury
Doesn't hold charge very well.
05/27/2019
Strengths:
Lightweight and easy to handle.
Weaknesses:
This one is about 6 months old and I'm having trouble with the battery holding charge.
Reviewer:
robyn m. from pasadena, md
User Details:
I've had a stroke. I am paralyzed on my left side.. I am 65 years olld.
Poorly designed, could not use the throttles because they...
09/14/2017
Weaknesses:
Throttle controls are impossible to use because they are covered up. The handle bars are too long. Very poorly designed, would never had bought it if I had seen it in person.
Reviewer:
ronald f. from corning, ny
User Details:
Multiple sclerosis.
Why make a handicapped person stoop to recharge battery?...
12/29/2016
Weaknesses:
Charging connector on battery
Reviewer:
charles j. from elk river, mn
User Details:
Not provided
I returned the product because I could not do the...
04/29/2016
Weaknesses:
Terrible electrical connections had to be manipulated to assemble or disassemble the scooter. Extremely strong hands necessary to do this. It's questionable whether someone with a disability could do this. I couldn't, and neither could my wife, who is not disabled.
Reviewer:
edward o. from vestal, ny
User Details:
I am 76 years old, can't walk due to ms.
Other than disconnecting battery it is great.
06/28/2014
Strengths:
Everything is good except the battery issue. Very disappointing.
Weaknesses:
Battery case should be a hard case not in the bag, with auto hook up.
Reviewer:
doris g. from boerne, tx
User Details:
It is really hard to disconnect wires from the battery, I wouldn't recommend it to my friends. I like it other than that, disconnecting is too time co
Travel Pro 3-Wheel: Review
05/06/2013
Weaknesses:
The battery, you could fall if you hit a bump.
Reviewer:
marisol r. from ny ny, ny
User Details:
Not provided