185 Hi-Low Series SL
Adjustable head and foot positioning, and the bed height lowers to 16.5" for ease of use and safety.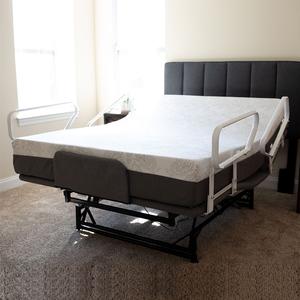 More Information on the 185 Hi-Low Series SL
BACK TO TOP
Reviews
Viewing 1 - 7 of 7
Prevents falling out of bed
08/31/2023
Strengths:
Well constructed for heavy weight person
Weaknesses:
Rails are difficult to keep up. need a manual.
Reviewer:
joe n. from san jose, ca
User Details:
Just completed Back Surgery. While getting out of the bed is a little tricky, the entire reason for the bed was to prevent falling out.
Medium mattress is very firm.
07/27/2019
Strengths:
Adapts to many sleeping and TV viewing positions.
Weaknesses:
Need bed to go lower for shorter legs. Greatest height of 20 inches would be helpful.
Reviewer:
kathleen d. from winchester, va
User Details:
Age 71, weight 280 pounds, female, height 5'2".
disappointed about the height of bed, not comfortable and...
09/26/2018
Weaknesses:
arm rails do not move, cant use covers sent for damage coverage, need to pull myself with the rails.
Reviewer:
robert c. from kimberling city, mo
User Details:
59 yr. old paralpegic who is blind.
Ordinary, somewhat disappointing in features for the...
12/10/2016
Strengths:
It does not squeak, is modestly adequate in performance. The metal parts function as advertised.
Weaknesses:
Mattress and all fabrics appear to be of lesser quality. I needed to remove the wheels to get into bed and there is no floor protection without the wheels. The controls include functions I did not purchase and are all in one color so not easy to use.
Reviewer:
beverly r. from burnsville, mn
User Details:
83 year old female, living in independent senior housing. Neck, back, hip degeneration. Use a 4 wheeled walker.
I will be selling this bed because it is dfficult for me to...
04/03/2016
Strengths:
Very comfortable
Weaknesses:
Bed height is very awkward. I need 2 people to get in and out of my wheelchair because bed does not lower enough to be level with my chair. It's 5 inches too high, so I will not be keeping it
Reviewer:
linda d. from warrenville, il
User Details:
The bed is really top quality. However, I am in a wheelchair and the bed which is height adjustable does not lower enough to be level with my chair.
Not for anyone who cant get out of bed.
12/10/2015
Strengths:
The bed is well made and sturdy. The mattress is very comfy.
Weaknesses:
This bed, which is a twin, is too high and too narrow. Also the railings are not long enough, and when down makes it even harder to get in the bed at the proper place.
Reviewer:
ada p. from akron, oh (caregiver)
User Details:
Purchased bed for a very ill 85 yr.old sister, who's barely able to walk. Uses wheelchair and aid assist. Needs lower bed for easier entrance.
Customer should be told about the height. Cannot transfer...
05/04/2014
Weaknesses:
Does not go low enough to ground. Cannot transfer from wheelchair to bed. Had to get thinner mattress which I am not happy with
Reviewer:
margaret m. from marcus hook, pa
User Details:
I am 67. I have many health issues for example advanced rheumatoid arthritis, severe spinal degenerative disc disease and stenosis etc.
Popular Related Products