E-Z Carrier 2 Fold-Up Scooter & Power Wheelchair Lift
When not in use the lift folds up against the vehicle for enhanced safety.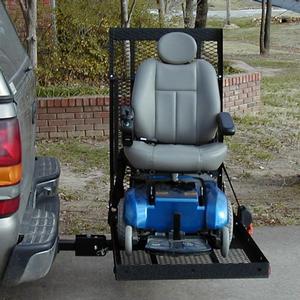 More Information on the E-Z Carrier 2 Fold-Up Scooter & Power Wheelchair Lift
BACK TO TOP
Reviews
Viewing 1 - 5 of 5
My power chair weighs 240 lbs, but the lift scrapes the...
10/24/2018
Strengths:
If the power chair is lightweight, it would be easy to use.
Weaknesses:
Very difficult for my family to maneuver with my heavy power chair. It shouldn't be that way. Also, lift shouldn't scrape the ground while driving with chair on it, as product states the weight capacity is 400 lbs.
Reviewer:
helen s. from winnetka, ca
User Details:
User of the lift is 63. Extreme mobility challenges, severe arthritis, knees in need of replacement, but not a candidate for knee replacement surgery.
Too hard to use in the rain and cold. Can't use trunk
11/29/2014
Weaknesses:
Difficult to use
Reviewer:
suzanne f. from greensboro, nc (caregiver)
User Details:
Not provided
08/05/2007
Strengths:
The metal is sturdy.
Weaknesses:
Requires a lot of muscle and finesse to use. Once scooter is on, someone has to strap it to the lift. The website said class II or III hitch necessary, but it comes ready for a class II, so if you have a class III you will have to go buy an dapter, etc. There is still a great deal of "play" once you start driving.
Reviewer:
anamaria s. from fort worth, tx
User Details:
49 year old female, with left shoulder replacement and right hip replacement--both pathological fractures
It is too heavy & had poor assembly instructions. it's not...
08/02/2007
Weaknesses:
It needs a lip on the ramp. I have to carry a board to act as a mini ramp.
Reviewer:
walter k. from tonasket, wa
User Details:
76 years old perephal neuropathy
I found the installation directions to be lacking in...
09/28/2006
Weaknesses:
My expectation was this carrier would be easy to operate and the scooter would be very stable in transit. Neither expectation turned out to be true. I am trying to sell the carrier because it is more trouble than it is worth. Our scooter comes apart so we are just putting it in the trunk.
Reviewer:
pam h. from matthews, nc (caregiver)
User Details:
My Dad uses a scooter because he is on oxygen and cannot walk any distance without gasping for breathe.