Heritage LC-358XL 3-Position
Most economical heavy duty chair with high-density foam for durability and comfort.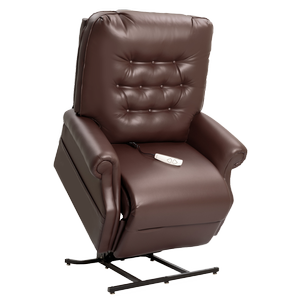 More Information on the Heritage LC-358XL 3-Position
BACK TO TOP
Reviews
Viewing 1 - 12 of 131
Chair is comfortable and aids me in getting up
03/26/2022
Strengths:
comfort, standing aid
Reviewer:
pamela c. from avondale, az
User Details:
I have an infected knee replacement and multiple joint pain.
06/21/2021
Strengths:
Very sturdy and tall.
Weaknesses:
Full comfort. No weakness.
Reviewer:
gwen h. from fergus falls, mn
User Details:
I am using it every day. It's great. I use the heat and massage to relax. I use slipcover on it from Walmart. Very easy to use hand control.
Sturdy chair raises and lowers with ease
02/04/2021
Strengths:
The chair is solid and easily converts from sitting to reclining and then to standing with gentle speed and the chair is very comfortable.
Weaknesses:
When the chair is coming down from standing position there is one point where it could tip because it seems as if it is not even. The chair is on a solid floor not a carpet so not sure why it poses as a tipping hazard but other than that it is very sturdy.
Reviewer:
barbara b. from granby, ma
User Details:
60 year old female disabled person
01/18/2021
Reviewer:
mark l. from leesburg, fl
User Details:
Large male, bad back and knees
I like the color and size.
06/22/2020
Strengths:
I Love the vibrate settings and the heat. I have lower back problems, so this helps.
Weaknesses:
The one thing I noticed is that when I get up and use the arm rest, the chair tilts some. I thought it would be more solid.
Reviewer:
patricia w. from columbus, oh
User Details:
I am 76 yrs. old and need a chair with a wider seat. I already have a 2 motor lift chair, but didn't have enough seat place for my comfort.
His old chair broke the speed you delivered the chair was a...
06/07/2020
Strengths:
The chair is sturdy and strong enough for heavy weight. Owned the same brand before - lasted 7 years. This chair seems just as comfortable and sturdy. Your responsiveness is the best! We will use SpinLife from now on - your speedy service is priceless.
Weaknesses:
We can't think of any at this time. We don't expect any issues. The only thing I was a little worried about was ordering online and handling a repair if one was necessary. But based on your service so far, I'm sure you will come through like champs.
Reviewer:
michael f. from rockland, ma (caregiver)
User Details:
user is 83 years old that has chronic issues with adema and c o p d this is not only his chair but he also sleeps in the chair to aid his breathing .
Heritage LC-358XL 3-Position: Review
04/16/2020
Reviewer:
carol r. from tulsa, ok
User Details:
Not provided
09/11/2019
Strengths:
It holds a lot of weight. It is made nice and the motor is quiet. I also love that I can charge my phone with it
Weaknesses:
Nothing it's perfect
Reviewer:
valerie s. from hamburg, ny
User Details:
I use a walker and needed this chair because of weak hips, it is fantastic. The color is perfect. It fits me perfectly. I can sleep in it, sit up in i
Good for someone smaller and in better physical condition
07/18/2019
Strengths:
The lift system is strong and works well.
Weaknesses:
Sometimes the remote doesn't work for a few minutes and then corrects itself and starts working again.
Reviewer:
patrick s. from williamstown, nj
User Details:
Male age 65 350 pounds unable to walk.
Easy use and extremely comfortable.
06/20/2019
Strengths:
Max life and size of seat is awesome
Weaknesses:
None as of now
Reviewer:
sherry m. from converse, tx (caregiver)
User Details:
User 400 lbs handicap lady. This lift recliner allows her easy access in and out of chair and makes life comfortable
when I recieved it it was not functioning. It took two...
01/22/2019
Strengths:
chair is very well built & functioning fine now
Weaknesses:
haven't found anything to complain about since it was fixed
Reviewer:
terrance c. from rhinelander, wi
User Details:
Not provided
Customers should try this chair before they buy.
11/18/2018
Strengths:
Comfortable. Sturdy. Soft material. Can handle my weight.
Weaknesses:
It doesn't raise high enough before it pitches you out. I have a hard time keeping my balance. The distance from the front of the seat to the back is too short. I don't feel like I am really in the seat. When I lean back, the leg extension is too short. My feet hang over a good 12 inches. I am only 6 feet tall.
Reviewer:
david t. from meridian, id
User Details:
Senior Citizen with leg and back problems
Popular Related Products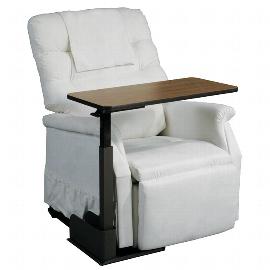 Lift Chair Table