Tracer SX5 Recliner - Custom
Our most popular recliner with a variety of seat sizes, footrests and armrests available.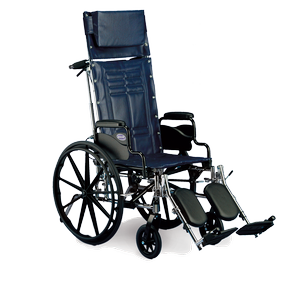 More Information on the Tracer SX5 Recliner - Custom
BACK TO TOP
Reviews
Viewing 1 - 10 of 10
Versatile and comfortable.
10/30/2017
Strengths:
Because the back has so many positions, it provides for all of the user's needs during the day. I strongly recommend the articulating footrests which accommodates her long legs while reclining. We discovered the desk-length armrests still do not fit under the table and we have to remove them. I wanted to replace them with the full-length style because she needed to reach too far back for them when being seated; however, the helpful representative suggested turning them around - that works great.
Weaknesses:
The legrests are a bit difficult to secure.
Reviewer:
laureen s. from salinas, ca (caregiver)
User Details:
90-year old female Parkinsons patient.
This replaces her 11-yr.old Invacare - same model.
05/23/2016
Strengths:
We like the features that accommodate her long legs and the leg extension feature as her feet need to go up when she is rolled into her wheelchair van. With the extension, the leg attachment elongates as well as goes up.
Weaknesses:
We have not yet found just the right spot to fasten the front of the wheelchair into the wheelchair van.
Reviewer:
cynthia h. from tallahassee, fl (caregiver)
User Details:
This wheelchair is used by my sister primarily to go to doctors' appointments. She is totally disabled physically, though not paralyzed.
Tracer SX5 Recliner - Custom: Review
04/17/2016
Strengths:
Ease of use. Reclining angles. Tilting safeguards
Weaknesses:
One side arm rest is loose. Needs pocket behind backrest
Reviewer:
roberto z. from penitas, tx (caregiver)
User Details:
16 year child with cerebral palsy. Unable to stand/walk.
Seems to be fine if it holds up outdoors.
08/01/2014
Strengths:
Looks nice. Moves smoothly.
Weaknesses:
Foot pedals do not keep feet on them because they slant toward floor, so feet fall off. Cannot recline when I'm alone.
Reviewer:
philippa p. from philidelphia, pa
User Details:
Cannot walk normally for any distance or length of time. Age 66.
the chair has good support
12/28/2012
Weaknesses:
it is a little harder to maneuver in the house - a little bigger chair.
Reviewer:
judith w. from foley, mn (caregiver)
User Details:
70 year old male that had a stroke 8 years ago. The wheelchair with the higher back gives him more back support.
Great recliner wheelchair
10/22/2010
Strengths:
if you have a person is in bed all the time and you want them in the same room as you. this wheelchair is it. you can lie the person down to flat or at any angle from sit up to lie down flat. We went out and bought a lounger cushion to put inside of it too. she is learning to side from the bed to the wheelchair
Weaknesses:
the Hemi swingaway padded elevating leg rest is to short when you raise to top of the wheelchair also would recommend that you put strap on one side between the foot and padded calf rest so you hook it to the other side to support the ankle area when you put up. we put a board across it under the cushion. also it would be nice if came with a belt too .
Reviewer:
john d. from saltillo, tn (caregiver)
User Details:
female 91 yrs, curve back, Alzheimer, can not sit up in regular wheelchair more than 2 hours
Recliner works nicely but footrests are a bust.
10/21/2010
Strengths:
Seems to be well made and sturdy. Elegant looking in comparison to ho hum "normal" wheel chairs. Seat height is adjustable, a plus for those who wish to scoot around, although it is heavier to manipulate w/out assistance.
Weaknesses:
Extendable footrests should not be optional, but part of the full pkg. And they should be easier to adjust. Warning about how to use reclining levers should be attached to directions.
Reviewer:
elinor h. from greenfield, ma (caregiver)
User Details:
Age 92; bad back, old break to coccyx; recent hip break and replacement means limited assisted walker use. Weighs around 100 lbs.
Tracer SX5 Recliner - Custom: Review
05/23/2010
Reviewer:
ronald a. from rapid city, sd
User Details:
Not provided
It allows her to nap while sitting in it.
05/03/2010
Strengths:
The ability to recline and the feature of folding for transport. Also the high head rest and pillow.
Weaknesses:
For this unit, one arm, on the left, her good side, will not stay down. There is a danger that she could lift it up accidently. I have tried to fasten it securely but the button will not stay in the slot. Proba bly some kind of adjustment problem.
Reviewer:
john d. from meredith, nh (caregiver)
User Details:
She has suffered three strokes and cannot move on one side. She does not walk nor talk.
Great product for a good price.
05/25/2009
Strengths:
Easy to use, comfortable & compact.
Weaknesses:
There should be a safety lock or other device on the reclining back. It's too easy to accidently grab the release handles when pushing the chair.
Reviewer:
robert u. from lindenhurst, ny (caregiver)
User Details:
60 year old female with Multiple Sclerosis