Tracer SX5 Recliner - Custom
Our most popular recliner with a variety of seat sizes, footrests and armrests available.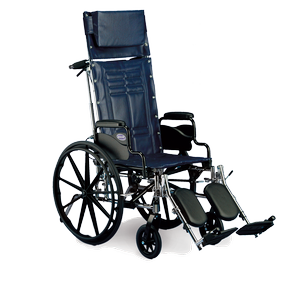 More Information on the Tracer SX5 Recliner - Custom
BACK TO TOP
Reviews
Viewing 1 - 6 of 6
If wider wheels are available for this chair than I...
05/16/2018
Reviewer:
patrick m. from cohoes, ny
User Details:
Front wheels are too thin for my use. I use it outside on walks a lot and the wheels are too thin for turning.
Tracer SX5 Recliner - Custom: Review
02/27/2016
Reviewer:
deb a. from medford, wi (caregiver)
User Details:
Not provided
some parts like the bar on the back of chair is not fitted...
12/14/2015
Reviewer:
linda r. from sixes, or (caregiver)
User Details:
she us unable to walk, and is small. she has a curvature in her back that causes her discomfort and she cannot bend her knees. I hope it helps her.
Above average quality than the average chair.
03/21/2015
Strengths:
Manufacturing quality control
Weaknesses:
Weak snap in snap out design
Reviewer:
michael s. from hempstead, ny (caregiver)
User Details:
Suffers from hypoxia due to heart stopage after heart attack.
Tracer SX5 Recliner - Custom: Review
08/14/2014
Weaknesses:
The front wheels
Reviewer:
iris g. from clovis, ca (caregiver)
User Details:
We did not get what we ordered.We received a larger wheelchair 900xt which is very heavy and the front wheels do not turn easy. We were told the brake
05/08/2013
Strengths:
most parts sturdy and acceptable
Weaknesses:
the foot pads are a piece of junk. They completely sag down with any weight on them. The maintenance man at the nursing home designed something to go over them and not touch them to support the feet. Another lady had one of hers brake down completely and her chair was fairly new. Another man has his held up with duct tape. Even though you sent me a new set they were made of the same stuff. I would think Invacare would be ashamed to put something so cheap on an otherwise sturdy product. Everyone I have seen at the nursing home is the same. If I had known how bad they were I might have ordered the metal foot plates.
Reviewer:
sharon m. from winter haven, fl (caregiver)
User Details:
husband age 80 suffers from dementia