Comforter Series Extra Wide Heavy Duty 3-Position
The only heavy duty chair with sizes that accommodate heights from 4'0" to 6'8".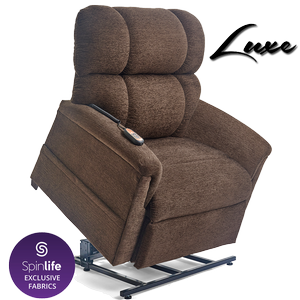 Golden Technologies
(Model No. PR501/531 ExtraWide)
VIEW ITEM
More Information on the Comforter Series Extra Wide Heavy Duty 3-Position
BACK TO TOP
Reviews
Viewing 1 - 12 of 289
09/02/2023
Weaknesses:
I have not found any.
Reviewer:
elizabeth m. from morristown, nj
User Details:
I am a 66 year old woman suffering from CDIP. It is imperative I have a sturdy comfortable chair with a lift. This chair fits the bill.
Not as comfortable as I thought it would be.
08/31/2023
Strengths:
It sits low enough for me to get in easy. It looks pretty .it lifts me to an almost standing position.
Weaknesses:
It doesn't lift my legs high enough to drain my edema-filled legs. The back rest is too soft and I need to put a pillow behind my head and shoulders. The seat is getting lumpy already and I've only had it a short time. The footrest isn't padded enough.
Reviewer:
dawn d. from reading, pa
User Details:
58 year old female severe spinal injury and lymphedema in both legs . Congestive heart failure patient.
Surprisingly comfortable and well worth the cost.
07/14/2023
Strengths:
Stays where it is put., comfort, durable.
Weaknesses:
Has two controllers.
Reviewer:
carol m. from whitehall, mi
User Details:
In a wheelchair for the past 25 years and can transfer. Sleep with a C-pap. Sleep in chair and it is Very comfortable.
Not what I expected for the cost.
06/18/2023
Strengths:
Extra Wide Seat and seems to seat a couple inches higher than I'm use to. But, I do like that about it.
Weaknesses:
I filled that up and down remote would benefit from being on the outside of the arm instead of on the inside. There's been a few occasions where the remote get stuck in between the cushion and the armchair. Also within the first few days of having the chair I started noticing a clicking sound when trying to go up or down. The cheer doesn't have a whole lot of cushion it's very minimal and could use a bit more. The massager seems to be centrally located right on the lower back and glutes. I was led to believe by looking at the pictures that it would be more on the back all the way down to the back of the legs. I think the thing that bothers me most is the clicking sound it makes lifting and descending. I also have foe wooden floors and so the seat seems to slip back. Trying to put it back in the place. It's difficult because it is a heavy piece and doesn't like to move easily.
Reviewer:
samantha d. from bentonville, ar
User Details:
I have trouble standing and walking due to Osteoarthritis and both my knees. I am plus size of 400 lbs and use this chair as my primary seat.
Decent chair that does what it is supposed to.
05/20/2023
Strengths:
Lifts you to almost standing position.
Weaknesses:
The depth of the seat is an issue for me. I'd like to sit further back but the padding on the back is too thick.
Reviewer:
linda k. from palos hills, il
User Details:
I am the user and I am 70 yrs old with terrible back and knee issues. Getting up from chairs was very difficult so I was hoping this would help.
If you constantly want to lay back but the chair, if you...
04/27/2023
Strengths:
None I'm very unhappy with this chair to have spent almost $3000
Weaknesses:
That you can't sit up 
Reviewer:
verna h. from kenly, nc
User Details:
I'm a mobility impaired larger woman and I hate thus chair!  It only lays you down you can't sit up in it and it's uncomfortable.  I'm so so sorry I !
Doesn't not recline properly
04/23/2023
Strengths:
It's a strong, well built recliner. 
Weaknesses:
I have a chair that I bought in 2022 and that one reclines gradually with the head and feet. I wanted another chair for our family room. This new one reclines at the same time. As soon as my feet go up , my head goes back. I'm immediately laying out flat. It's very difficult to sit up and socialize. I called the service department to see if there was a setting that could be changed and they said no. It's how it's made and they get alot of complaints. 
Reviewer:
betty m. from liverpool, ny
User Details:
I'm a 59 year old with a physical /mobility disability 
04/17/2023
Strengths:
The dual lifts
Reviewer:
pennie w. from ackerman, ms (caregiver)
User Details:
My husband is disabled and is in end stage kidney failure. So this chair helps him to be able to stand easier than me having pull on him .
04/14/2023
Strengths:
Strong heavy duty great fabric and quiet great two motors
Weaknesses:
Control cord placement.
Reviewer:
john f. from bryan, tx
User Details:
82 elder obease male serious mobility problems
Not comfortable. Handset cheaply made.
04/01/2023
Strengths:
I think the motor that lifts you completely off the floor is the strength of this chair.
Reviewer:
lisa s. from pottsville, pa
User Details:
I'm a 62-year-old woman, who is disabled. This chair helps me to get up and off the chair. It's not very comfortable to sleep in. The handset broke
Everything about this chair perfectly suits my needs.
04/01/2023
Strengths:
Sits high enough I can stand even without the lift. Love the color and fabric. Comfortable to sit in. Sturdy. 
Weaknesses:
I would like to be able to adjust the angle of the head rest. Sometimes need a small pillow behind my neck for support. 
Reviewer:
frank s. from camdenton, mo
User Details:
Not provided
Highly recommend this chair for people severely over weight
03/30/2023
Strengths:
So thankful for this Lyft chair because it works even when the power goes out in the whole house 
Weaknesses:
None… perfect chair!!!!
Reviewer:
heather p. from palo pinto, tx (caregiver)
User Details:
I take care of a bariatric person over 400 pounds and this chair is a life saver! Best chair ever made it has the double motor and extra heavy frame. 
Popular Related Products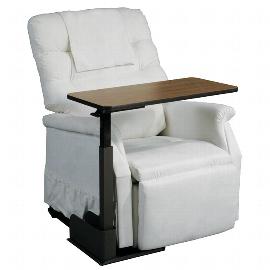 Lift Chair Table