9000 XT
Offset axle positions allow for greater adjustability of center-of-gravity which provides stabilty.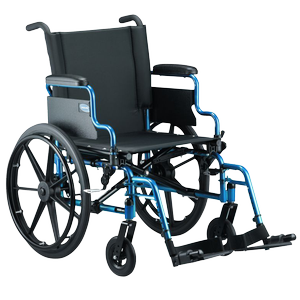 More Information on the 9000 XT
BACK TO TOP
Reviews
Viewing 1 - 12 of 144
04/09/2022
Strengths:
It is well built, easy to maneuver, good looking and not heavy.
Reviewer:
edith c. from los alamos, nm
User Details:
I have cerebral palsy and am 70 yrs old.
You can build chair to fit your needs
05/24/2021
Strengths:
Lightweight, durable, easy to work on if needed
Weaknesses:
Cheap arm pads, hardly no padding. Their are better p ads out there
Reviewer:
kenneth s. from addis, la
User Details:
Been a wheelchair user since 1973 due to an auto accident, Paralyzed from arm puts down! Been using a 9000xt for at least 30 years.
04/25/2021
Weaknesses:
Was disappointed to find it was manufactured in Mexico. Thought we were buying American made
Reviewer:
robert s. from denver, co (caregiver)
User Details:
Wife with wounds to foot and is non-weightbearing. Have one 9000XT purchased many years ago and wanted a second one to leave at vacation home.
09/11/2019
Weaknesses:
tends to pull to the left when in use
Reviewer:
will h. from midland, tx
If the long-term durability of our wheelchair meets the...
07/29/2019
Strengths:
Fit and finish are just what we ordered
Reviewer:
albena l. from waterford, mi (caregiver)
User Details:
User is 96 years of age, currently using a walker but is getting weaker requiring the wheelchair ordered.
06/21/2019
Strengths:
Can rely on them to keep the same product
Reviewer:
betty m. from fayetteville, nc
User Details:
Spinlife is an awesome supplier. I have returned to them on numerous occasions for my wheelchair needs. They are give prompt service....always
excellent service very happy with help on the phone...
03/27/2019
Reviewer:
peggy h. from maquoketa, ia
User Details:
my husband is a quadriplegic 65 years old
Very satisfied with the purchase
03/11/2019
Strengths:
Lightweight and can fold when necessary. Comfortable for her needs
Reviewer:
mary h. from ellenton, fl (caregiver)
User Details:
Wheelchair. Was purchased for our adult daughter, Tricia. She has had an invacare patriot for a number of years and has worked very well for her.
Excellent light weight wheelchair made to meet the users...
12/08/2018
Strengths:
It is lightweight and can accommodate the needs of the user
Weaknesses:
It is lower to the ground than expected. does not meet the height requirement requested. Makes transfers more difficult.
Reviewer:
pauline j. from keene, nh (caregiver)
User Details:
75 year old male with atypical Parkinson's disease
Excellent, except for one thing
11/30/2018
Strengths:
Customization options Quality materials Fit and finish
Weaknesses:
When I added the option for "Wrap-Around Upholstery" I expected that the vinyl of both the seat back and seat bottom would wrap around the frame. I am disappointed that the seat bottom doesn't wrap around the frame. The armrests are designed to be installed offset so to the chair's arms such the wider part is away from the seated person and out of the way of the flip-back arms. One armrest was installed with the wider part toward the seated person, and it was in the way of the flip-back arms. It was easy to reverse, but still...
Reviewer:
gregory k. from freeville, ny (caregiver)
User Details:
My wife in in her 60s and has had MS for quite a while.
Well made!!! Allows me to operate where I could not with...
11/15/2018
Strengths:
Quality!!! Options available!!! Value!!! A Custom Wheelchair that is Affordable!!!
Weaknesses:
None so far!!!
Reviewer:
brian d. from alameda, ca
User Details:
74 Medicare Supplied Wheel Chair upon leaving Acute Rehab 2 years ago after my 5th spinal operation.
10/18/2018
Strengths:
The wheelchair folds up easily. It is lightweight and easy for me to get in and out of the car.
Weaknesses:
Had to order wheel lock extensions because the ones that come with the wheelchair are very hard to use.
Reviewer:
jill d. from st. paul, mn (caregiver)
User Details:
The user is a 74 year old man who had a stroke 5 years ago. He has limited use of his right leg and no use of right arm. This is our travel chair.
Popular Related Products