9000 XT
Offset axle positions allow for greater adjustability of center-of-gravity which provides stabilty.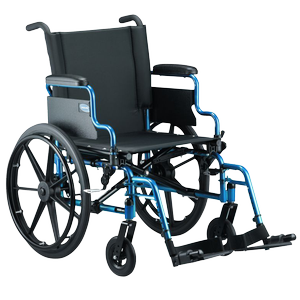 More Information on the 9000 XT
BACK TO TOP
Reviews
Viewing 1 - 12 of 14
03/24/2022
Weaknesses:
The front wheels wobble going down hills
Reviewer:
sue i. from auburn, ca
User Details:
I've gone through about 8 of these chairs and they are light and durable. The last chair was delivered damaged and the handles were bent.
It is pretty much what we expected.
02/01/2022
Strengths:
Nice looking. Works same as the one we had on loan until we received this one.
Weaknesses:
Difficult for me to hoist into the back of the car even though we bought the higher priced on thinking it would be lighter and easier to use. It swings open and makes lifting it difficult. No cup holder or way to carry things unless bought separately.
Reviewer:
harriet m. from bozeman, mt (caregiver)
User Details:
Age 77, Male, 6'2" 180# Has Orthostatic Hypotension, so blood pressure is very low when standing thus he faints readily. The chair gives independe
Overall a reliable and strong wheelchair.
04/20/2021
Reviewer:
leo l. from brick, nj (caregiver)
User Details:
I am a male, 74 years old suffering with MS.
06/20/2019
Strengths:
Size is exact for her physical needs
Weaknesses:
Stiff. Should be better lubed and/or friction relief
Reviewer:
fred c. from gulf shores, al (caregiver)
User Details:
Patient is an 11 year stroke survivor with a very weak gait and no vocal success. Right side is affected area.the chair is her mode of movement,
Mainly, the front wheels don't swivel easily for him. The...
05/15/2018
Strengths:
It looks nice, enjoy the choice of colors other than all black.
Weaknesses:
As stated above, I wish the front wheels swiveled more easily.
Reviewer:
glennard a. y. from manhattan, ks (caregiver)
User Details:
87 year old Dad, full time in wheel chair due to a fall which broke the upper bone in the leg.
Bought as replacement for Invacare Patriot.
10/30/2017
Strengths:
Has same features as the Patriot.
Weaknesses:
The quality is not the same as the Patriot. Noisy and not very comfortable.
Reviewer:
walter h. from niceville, fl
User Details:
Paraplegic.
Good chair, lousy quick release wheels.
06/03/2016
Strengths:
Seems to be a solid chair.
Weaknesses:
The quick release wheels. One wheel comes off OK. The other requires much effort (requires a rubber mallet) to take off and put back on. I think it is loosening up some from use and should get better.
Reviewer:
donald d. from cedar rapids, ia (caregiver)
User Details:
The user suffers from Fibromyalgia and has trouble walking for very long. The chair is used when she knows she would be on her feet for a long time.
Average chair for the price
06/01/2016
Strengths:
Its fairly lightweight and comfortable as well.
Weaknesses:
The legs do not adjust to a 90 degree angle so it makes it difficult to get close enough to the stove to cook or to the sink or fridge etc. Also because the legs stick out so far its difficult to maneuver in small narrow tight spaces
Reviewer:
lisa c. from bonita springs, fl
User Details:
27 yr old woman unable to walk and uses a chair on a fulltime basis.
01/10/2015
Weaknesses:
Leg extensions are garbage; they broke upon first use. Bad welds and craftsmanship; they should be made here in the USA.
Reviewer:
steve n. from oak forest, il (caregiver)
User Details:
Not provided
01/08/2014
Weaknesses:
The seat quality is very inferior. After 2.5 weeks the seat looks like she has had the chair for 7 years old, which was how old her old chair is.
Reviewer:
juan l. from hyattsville, md (caregiver)
User Details:
62 yo female with inability to ambulate.
Happy when wheelchair arrived, but 2 days later wheels made...
09/29/2013
Strengths:
Nice looks and color and size fits.
Weaknesses:
The wheels make a terrible noise. 2 replacement wheels were sent & it still makes noise. This wheelchair is only a few weeks old and made noise when it was few days new.
Reviewer:
nancy h. from hamburg, ia (caregiver)
User Details:
90 year old, limited to wheelchair due to arthritis in hips.
11/04/2011
Strengths:
LIGHTER TO PICK UP, AND PUT IN CAR.
Weaknesses:
needs cusion on seat, wife is always needing cusion, to sit on and more support for her back.
Reviewer:
gary b. from lehigh acres, fl (caregiver)
User Details:
WIFE HAD STROKE, CANNOT WALK AT ALL
Popular Related Products