Comforter Series 3-Position
With four regular and three extra-wide size options, this is a consistent best-seller.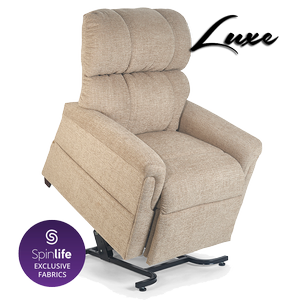 Golden Technologies
(Model No. Comforter Series 501/531)
VIEW ITEM
More Information on the Comforter Series 3-Position
BACK TO TOP
Reviews
Viewing 1 - 9 of 9
Disappointed...not very comfortable...causes pain in my...
03/20/2022
Weaknesses:
The chair is stiff and not comfortable.
Reviewer:
samuel h. from midland, mi
User Details:
I am a 71 yeas old male and not in the greatest health.
01/10/2021
Strengths:
Made in USA, color and comfort
Weaknesses:
For cost not enough features
Reviewer:
dawn w. from duncannon, pa
User Details:
Chair was purchased for my husband who broke his knee
06/28/2019
Strengths:
Strong, like the color, comfortable but short.
Weaknesses:
Length of the seat is too short, would like it to raise straight up more before getting off. Would make it easier to get out.
Reviewer:
verla r. from reno, nv
User Details:
As the user of the lift chair I like the wider seat but would like a bit wider and even longer let length. I have so much more trouble getting off.
much too long for delivery; white glove too expensive
03/30/2019
Strengths:
It is comfortable.
Weaknesses:
there should be a fourth position to set at.
Reviewer:
mike m. from yuma, az
User Details:
Not provided
02/18/2018
Strengths:
Chair seems well made.
Weaknesses:
Lumbar support could be better, seat seems overly large, and there is a slight forward pitch to the seat which I did not expect.
Reviewer:
mark l. from rehoboth beach, de
User Details:
Difficulty walking, chair helps with standing.
05/25/2017
Reviewer:
lynda s. from cheney, wa (caregiver)
User Details:
This chair was intended for our 89 year old but the seat cushion is mounded up in the middle and he slips to the side.
Chair is not very comfortable. She won't use it.
01/21/2017
Weaknesses:
Not very comfortable
Reviewer:
ernest c. from new albany, in (caregiver)
User Details:
86 year old mother
21 DAYS AFTER SHIPMENT DATE TO RECEIVE IT!
10/30/2014
Reviewer:
richard n. from cypress, tx
User Details:
6'7", 280lb, MALE, 75 YRS, EXCELLENT HEALTH, BUT WITH TWO (2) TKR KNEES! CHAIR ADVERISED FOR 6'3", TOO SMALL FOR 6'7"
10/30/2014
Strengths:
Very good chair, but not comfortable. It cause both my arms to fall asleep and also my right leg.
Weaknesses:
It should be zero gravity with infinite adjustments. I bought for size (my height) rather than my ailments
Reviewer:
jimmy j. from greenville, nc
User Details:
I am 75 years old. I have chronic back pain, half dual knee replacements, heart attack, repaired aorta and several other ailments.
Popular Related Products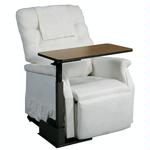 Lift Chair Table