Comforter Series 3-Position
With four regular and three extra-wide size options, this is a consistent best-seller.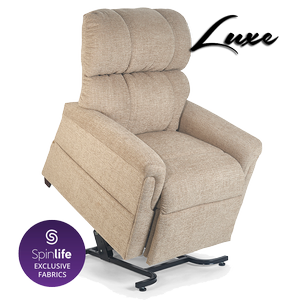 Golden Technologies
(Model No. Comforter Series 501/531)
VIEW ITEM
More Information on the Comforter Series 3-Position
BACK TO TOP
Reviews
Viewing 1 - 3 of 3
bad product, bad fabric, dangerous for me and any other...
03/02/2022
Strengths:
The head pillow
Weaknesses:
The fabric is slick. I cannot raise chair to full height without sliding out, the 3 position is a sale statement it has up and down you can not watch TV without laying down because the back goes back and is impossible to sit up
Reviewer:
dayton e i. from edna, tx
User Details:
82 year old male with disabilities
Mom appears to be more comfortable in this chair than two...
10/18/2020
Strengths:
The cushioning fits her better and doesn't push her head forward. The two motors make it easier to find comfortable positions.
Weaknesses:
Not sure if the fabric is waterproof. There should be an easy way to take advantage of Medicare partial payment to help with cost.
Reviewer:
pamela s. from kittanning, pa (caregiver)
User Details:
The user of this chair is a 93 yr old female who is less than 5 ft tall, average weight. She has arthritis and dementia. She cannot use the control.
It is nice looking and easy to operate.
03/24/2018
Strengths:
I am petite and ease of operation is perfect - use requires only 2 buttons. fits my body and supports my frame. I also appreciate battery in case of power outage.
Reviewer:
winifred g. from newland, nc
User Details:
I chose this chair for its attractive looks, ease of use, but most importantly - for comfort. Breaking my femur made a lift necessary, thanks Golden!
Popular Related Products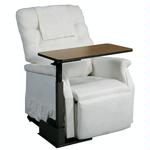 Lift Chair Table