Comforter Series 3-Position
With four regular and three extra-wide size options, this is a consistent best-seller.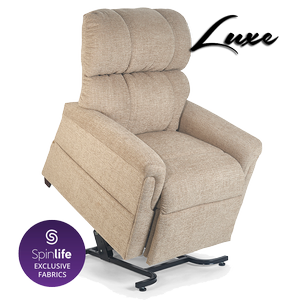 Golden Technologies
(Model No. Comforter Series 501/531)
VIEW ITEM
More Information on the Comforter Series 3-Position
BACK TO TOP
Reviews
Viewing 1 - 12 of 175
Reliable and practical but also comfortable
11/08/2023
Strengths:
It holds up for years and can be a place to sleep as well. It looks like a regular piece of furniture.
Weaknesses:
It needs to be installed near an electric outlet and it is heavy. Once in place, not easily moved.
Reviewer:
amy r. from charlotte, nc (caregiver)
User Details:
This chair is wonderful for somebody with balance or posture issues. It really makes the difference between getting out of a chair or not.
Excellent power recliner with awkwardly positioned remote
09/27/2023
Strengths:
The materials used, durability, various preset positions 
Weaknesses:
The awkward placement of the remote with cord coming from the back instead of from the side. Cord is not long enough to store remote in recliner side pocket 
Reviewer:
william p. from willowick, oh
User Details:
70 year old male, 250 pounds 
This chair gives life a boost!
07/12/2023
Strengths:
Very fine quality in all aspects. I like the lighted remote that is never misplaced.
Weaknesses:
I live alone and assembling the back to the seat was a problem.
Reviewer:
dr. gary w. from lake mary, fl
User Details:
I am an 82 year old man of 270 pounds. I have severe sleep apnea which this wonderful chair gives me relief in the various positions I can sleep.
Chair material not as good as older chairs which I have...
07/09/2023
Strengths:
Lifting and lowering to sitting position 
Weaknesses:
Wrong material too slippery and padding in arms not as good as in past. Back seems to be over stuffed compared to my old chair 
Reviewer:
tommy w. from mishawaka, in (caregiver)
User Details:
Wheel chair bound women 75 years old has complained that the new chair does not fit her back the way her old chair did and she refuses to use it. 
06/19/2023
Strengths:
quality construction, easy to use
Weaknesses:
motor is slow, as if you need to get up a little faster, you have to wait for it to lift you, and I wish it had a way to just kick out the foot rest without having to lean it back. that feature would make this a 5 star rating all the way.
Reviewer:
heuston legal p. from tba, fl
User Details:
age 60, tore a quadricep tendon recently and have mobility issues especially getting up out of chairs.
06/04/2023
Strengths:
Back is very padded and comfortable. Chair doesn't slide on transfers 
Weaknesses:
I would like the chair arms to be bigger.
Reviewer:
judy k. from denver, nc
User Details:
60yo woman with Friedreich's Ataxia,  wheelchair bound.
Great quality and very comfortable.
04/16/2023
Strengths:
Superior support. Ease of operation.
Reviewer:
joyce a. from dimondale, mi
User Details:
I am an 84 year old woman who lives alone.
04/15/2023
Strengths:
very comfortable - the covering is what I like.
Weaknesses:
found nothing that I don't like about this chair
Reviewer:
ej s. from pensacola, fl
User Details:
Not provided
Best investment I ever made.
04/12/2023
Strengths:
Golden Technology's makes a superb product. My last lift chair from them lasted 18 years.
Weaknesses:
No negative comments.
Reviewer:
barbara t. from lady lake, fl
User Details:
I have mobility problems also sciatica. Mostly in pain a good part of the day. The heat and massage features really help. Three positions are great.
Nice chair and very comfortable.
03/22/2023
Strengths:
Great looks Comfortable Custom features of heat and massage work well. Brisa material is really nice.
Weaknesses:
Takes up a lot of room, as could be expected. The Remote is only a 2 button device, but I didn't realize that there are remotes that control a multitude of positions.  Considering the cost of the chair, I would have opted for a more desirable remote. When unreclining, the chair makes a popping or clicking sound, but only one time with every unreclining operation.  It really doesn't bother me, but I don't want it to be indicative of a bigger problem to come later.   Also, the movement when reclining seems to be a bit slower than when I first started using the chair, but not enough to be alarming.  I am a very big person, but well within the weight 500lb. limit of the chair.  I will keep an eye on this to see if it gets any slower; possibly it's just my imagining it.   Despite this stuff, I love the chair. Michael Rosamilia
Reviewer:
michael r. from brick, nj
User Details:
I am a very large person   weighing 400 lbs.   I am a male of 72 years old.  I have lower leg weakness and need the lift feature to help me stand up.
disappointed in assembly of chair
02/18/2023
Strengths:
very quiet good looking
Weaknesses:
poorly assembiled mounting hole for lift mech are drilled about 1" different on each side so chair sits 1" lower on left side and make scrapping sound on the way up
Reviewer:
lance e. from chisago, mn
User Details:
78 yr of age failed total knee replacements both legs and numerus infections of both knees, and recent broken femur rt leg and graft of rt knee tendo
Best Buy I've made. Recommend to several friends.
11/24/2022
Strengths:
Quality, ease of use. Great features.
Weaknesses:
None I have found.
Reviewer:
margarita g. from inverness, fl
User Details:
Senior female - severe Arthritis, back issues. Very happy with product 
Popular Related Products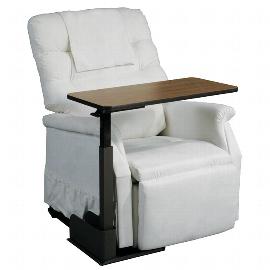 Lift Chair Table