Nitro
European styling gives this lightweight aluminum rollator some flair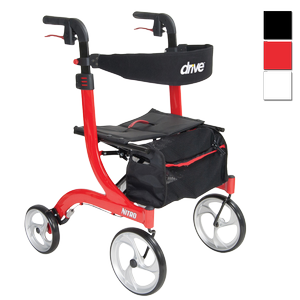 Drive Medical
(Model No. RTL10266/RTL10266-T)
VIEW ITEM
More Information on the Nitro
BACK TO TOP
Reviews
Viewing 1 - 5 of 5
Everything is perfect except mesh bag allows others to see...
09/23/2022
Strengths:
Sturdy, pretty red color, big wheels make it easier to cross the RR tracks, step to lift front when going up a step.
Weaknesses:
Bag reveals what is inside and brakes do not always hold.
Reviewer:
janet w. from burlingame, ca
User Details:
Not provided
A very good product. More people should use them rather...
08/11/2022
Strengths:
Well, built and easy to transport.
Reviewer:
james r. from middletown, pa (caregiver)
User Details:
My wife has very bad knees and cannot have surgery.
12/17/2020
Reviewer:
daniel s. from foxworth, ms (caregiver)
User Details:
My wife has MS, Primary Progressive..has utilized waljer and scooter frim spin life for several years. I think the Nitro is a great walker..
09/06/2019
Strengths:
Quality workmanship
Weaknesses:
Cane hoder unstable
Reviewer:
michael m. from new rochelle, ny (caregiver)
User Details:
I like Walker very much' unfortunately the cane holder brace on top side bar broke and cane is no longer steady could your please send a new top
Nice lines, clean look, easy handling.
12/27/2013
Strengths:
It's oversized front wheels, modern lines, and uncluttered appearance (brake wires hidden).
Weaknesses:
For a sight impaired person, one might find it difficult to find and unzip the pouch - it's lower than some, and in the front rather than under the seat (like many other models). Also, I ordered white and got black! We kept it - the user was fine with it. Still.
Reviewer:
heidi g. from saline, mi (caregiver)
User Details:
User is 89.5, and has some balance issues due to sight and hearing losses.
Popular Related Products