Quickie QRi
Our most affordable open frame design featuring adjustability for a customized fit.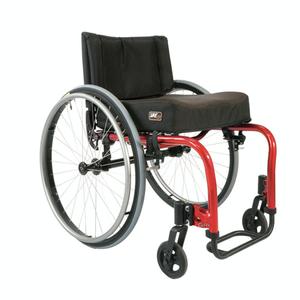 More Information on the Quickie QRi
BACK TO TOP
Reviews
Viewing 1 - 12 of 40
Patient was extremely please with purchase
03/23/2023
Strengths:
CSR was very helpful in completing this sale.
Reviewer:
edward s. from pittsburgh, pa (caregiver)
User Details:
Pateint uses chair for mobility purposes.
11/21/2022
Reviewer:
cathyln s. from brookshire, tx
User Details:
I love my chair.  It fits perfectly and is comfortable to sit in.  Easy to put together and I can load and unload by myself ending 2 yrs as a shut in!
06/30/2022
Strengths:
It is extremely lightweight. For people with less use of the arms of if they're not as strong, this chair is easy to handle and maneuver if it had to be taken apart.
Weaknesses:
I haven't really found any weaknesses so far.
Reviewer:
jose o. from dallas, tx
User Details:
43 yr old paraplegic
06/26/2022
Strengths:
I went from a foldable chair to the Quickie QRI. I feel that I get more travel from each push. The chair rolls easily.
Weaknesses:
I haven't found any weakness yet.
Reviewer:
mary b. from west monroe, la
User Details:
55 year old with paraplegia
03/01/2022
Strengths:
I find this chair to be very lightweight and easy to use, it has a good range of adjustability which is great for a first-time user like me.
Weaknesses:
I hate the back upholstery as the Velcro will grab onto your shirt or sweater, I was also disappointed that a screw came off of my side guard a month after receiving the chair and so I had to make a makeshift replacement.
Reviewer:
ng a. from torrance, ca
User Details:
16-year-old, adrenoleukodystrophy
I don't honestly know how this wheelchair could be better.
11/10/2021
Strengths:
light weight, attractive, quiet, safe, made specifically for her measurements and her needs
Weaknesses:
I can't help you here. I have not discovered any weaknesses of this product and have no complaints from my wife.
Reviewer:
charles s. from fredericksburg, va
User Details:
My wife is a 76 year old with osteoporosis and drop-foot on the right. So many serious falls and broken bones that do not heal made this necessary.
Solid multipurpose rigid wheelchair
01/27/2021
Strengths:
Efficient solid frame construction with easily adjustable seat back and footrest. Excellent price per value.
Weaknesses:
No rear wheel camber adjustment available.
Reviewer:
john e. from lewes, de
User Details:
Male paraplegic full-time wheelchair user.
Excellent product and affordable
12/29/2020
Strengths:
Lightweight smooth ride and fits in my back seat. I drive a small car.
Weaknesses:
None so far knock on wood.
Reviewer:
manuel l. from litchfield park, az
User Details:
I am a 55 year old male with cerebral palsy. I love my new quickie rigid wheelchair. Definite upgrade. Looks great light and smooth ride.
Very satisfied well build very reasonable price
09/24/2020
Weaknesses:
None at this moment
Reviewer:
noel s. from langhorn, pa
User Details:
Had polio and using wheelchair everyday 24/7. The product is well build for me. This is my second chair that I purchased I'm really satisfied thank
06/14/2020
Reviewer:
william c. from egg harbor twp, nj (caregiver)
User Details:
It is very g00d
Great chair, Great price, Fast delivery from order date to...
03/29/2020
Strengths:
Being able to by pass Doc. prescription, OT Appt. to fit me then waiting 5 months to receive. I know my measurements. I was able to fit myself (but made 1 wrong measurement), and Phil called me to correct, and 2 weeks later it was delivered. FANTASTIC!!!!
Weaknesses:
There are no weaknesses. I lowered the footrest to fit my 6'2" height and have been using it ever since. Very comfortable, rolls easy,quiet. Absolutely Love It. Thank You for making this purchase easy to order and unbelievably fast to ship.
Reviewer:
elton g. from everett, wa
User Details:
I'm 61 years old, I've been a paraplegic since breaking my neck at age 19.
12/20/2019
Reviewer:
tim p. from rossville, ga
User Details:
Not provided