Quickie QRi
Our most affordable open frame design featuring adjustability for a customized fit.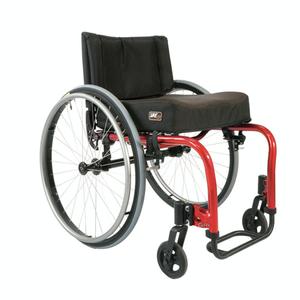 More Information on the Quickie QRi
BACK TO TOP
Reviews
Viewing 1 - 12 of 26
06/26/2022
Strengths:
I went from a foldable chair to the Quickie QRI. I feel that I get more travel from each push. The chair rolls easily.
Weaknesses:
I haven't found any weakness yet.
Reviewer:
mary b. from west monroe, la
User Details:
55 year old with paraplegia
I don't honestly know how this wheelchair could be better.
11/10/2021
Strengths:
light weight, attractive, quiet, safe, made specifically for her measurements and her needs
Weaknesses:
I can't help you here. I have not discovered any weaknesses of this product and have no complaints from my wife.
Reviewer:
charles s. from fredericksburg, va
User Details:
My wife is a 76 year old with osteoporosis and drop-foot on the right. So many serious falls and broken bones that do not heal made this necessary.
Excellent product and affordable
12/29/2020
Strengths:
Lightweight smooth ride and fits in my back seat. I drive a small car.
Weaknesses:
None so far knock on wood.
Reviewer:
manuel l. from litchfield park, az
User Details:
I am a 55 year old male with cerebral palsy. I love my new quickie rigid wheelchair. Definite upgrade. Looks great light and smooth ride.
Very satisfied well build very reasonable price
09/24/2020
Weaknesses:
None at this moment
Reviewer:
noel s. from langhorn, pa
User Details:
Had polio and using wheelchair everyday 24/7. The product is well build for me. This is my second chair that I purchased I'm really satisfied thank
06/14/2020
Reviewer:
william c. from egg harbor twp, nj (caregiver)
User Details:
It is very g00d
Great chair, Great price, Fast delivery from order date to...
03/29/2020
Strengths:
Being able to by pass Doc. prescription, OT Appt. to fit me then waiting 5 months to receive. I know my measurements. I was able to fit myself (but made 1 wrong measurement), and Phil called me to correct, and 2 weeks later it was delivered. FANTASTIC!!!!
Weaknesses:
There are no weaknesses. I lowered the footrest to fit my 6'2" height and have been using it ever since. Very comfortable, rolls easy,quiet. Absolutely Love It. Thank You for making this purchase easy to order and unbelievably fast to ship.
Reviewer:
elton g. from everett, wa
User Details:
I'm 61 years old, I've been a paraplegic since breaking my neck at age 19.
12/20/2019
Reviewer:
tim p. from rossville, ga
User Details:
Not provided
11/26/2018
Strengths:
I purchased the chair for use inside the home. It is easy to propel around obstacles and turns on a dime. The narrow width makes it easier to get through doorways. The chair is well built and very light weight. I truly enjoy the chair. It makes it much easier to get around the house.
Weaknesses:
You definitely need a seat cushion. Adding back lumbar support is also helpful. The fixed front riggings make transfers and pulling up to a table a little more difficult.
Reviewer:
thomas s. from mchenry, il
User Details:
66 year old male with MS.
11/19/2018
Weaknesses:
lack of better back adjustment
Reviewer:
steve e. from napa, ca
11/06/2018
Strengths:
The best strength of the wheelchair is that it is ultra lightweight.
Weaknesses:
The weakness of the wheelchair for me is that it's not as small as it looked online.
Reviewer:
chanel c. from phoenix, az
User Details:
I'm 48 and I have spina bifida among other things.
Good product,excellent service.
08/29/2018
Strengths:
Lite and easy to push,great movility
Reviewer:
cristian h. from selma, or
User Details:
41 years can not walk due an injure in her spine.
07/26/2018
Strengths:
The infinite amount of adjustments you can make really surprised me!
Reviewer:
chance g. from canton, ga
User Details:
20 year old, C7 Quadriplegic. Been in an Electric wheelchair for a few years and wanted a manual really badly. Its amazing, light and easy to use!