Quickie QRi
Our most affordable open frame design featuring adjustability for a customized fit.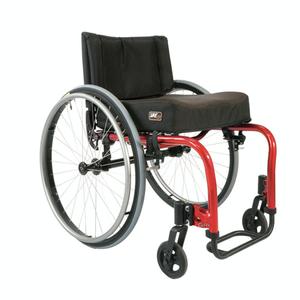 More Information on the Quickie QRi
BACK TO TOP
Reviews
Viewing 1 - 9 of 9
03/01/2022
Strengths:
I find this chair to be very lightweight and easy to use, it has a good range of adjustability which is great for a first-time user like me.
Weaknesses:
I hate the back upholstery as the Velcro will grab onto your shirt or sweater, I was also disappointed that a screw came off of my side guard a month after receiving the chair and so I had to make a makeshift replacement.
Reviewer:
ng a. from torrance, ca
User Details:
16-year-old, adrenoleukodystrophy
Solid multipurpose rigid wheelchair
01/27/2021
Strengths:
Efficient solid frame construction with easily adjustable seat back and footrest. Excellent price per value.
Weaknesses:
No rear wheel camber adjustment available.
Reviewer:
john e. from lewes, de
User Details:
Male paraplegic full-time wheelchair user.
12/28/2018
Reviewer:
gabriel r. from wilmington, de
User Details:
Not provided
Works great for low price
10/07/2018
Strengths:
Light weight. Easy to maneuver Smooth ride
Weaknesses:
Wheels get hard to take on and off. They get stuck sometimes
Reviewer:
madeline o. from summit, il
User Details:
Not provided
It's okay and somewhat meets my needs
09/29/2017
Strengths:
It's lightweight and rigid
Weaknesses:
Paint scrapes off easily and it's not as strong or light as I think it should be.
Reviewer:
charles k. from st paul, mn
User Details:
21 chronic pain, EDS and POTS
I didn't know the specifics of the standard wheelchair I...
07/15/2017
Strengths:
I love the lightness and maneuvering of my new chair.
Weaknesses:
It's hard getting in the chair because of the foot rest. When I step on them, the chair lifts and is unsteady.
Reviewer:
jamillah c. from tallahassee, fl
User Details:
I am diagnosed with MS. I have balance problems and walking difficulties.
Purchased as compact wheelchair for use in house
11/01/2014
Strengths:
lightweight, compact
Weaknesses:
Position of fixed foot rest causes difficualty in standing up.
Reviewer:
jay b. from walnut creek, ca
User Details:
Age-85, leg weakness - neuropathy
Simple, basic, and functional
02/21/2014
Strengths:
The chair is attractive. Simple and effective design. Ideal for my daily use and transport.
Reviewer:
randy s. from san diego, ca
User Details:
Male, 62, with MS
It's a great product,we just need to raise the pushing...
09/30/2013
Strengths:
Sporty looking, very functional. Quality frame.
Weaknesses:
You can't push the wheelchair walking behind easily with the anti Tip bars. Push Handles need to be higher. Also his gel seat has bumps and creases in it that cannot be worked out and he has only used the chair and seat twice.
Reviewer:
marybeth k. from winnetka, il (caregiver)
User Details:
The wheel chair is for my son, age 15