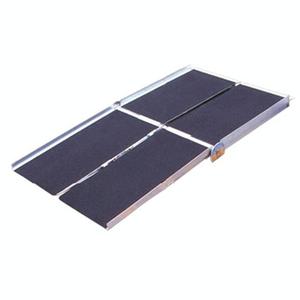 More Information on the Multi-Fold Ramp
BACK TO TOP
Reviews
Viewing 1 - 3 of 3
The pins securing ramp must be at least doubled in length
08/13/2016
Strengths:
Can be used when $ not available for a custom made wooden ramp. Caregiver should have help if user is tall & heavy. Can be removed easily and stored, not a permanent attachment to your home.
Weaknesses:
No handrails, pins securing ramp are too short, need at least two adults to transport user.
Reviewer:
mary ann m. from columbus, oh (caregiver)
User Details:
6ft 5in male 77yrs w/multiple challenges: traumatic brain surgery, mobility challenges, early dementia, in need of several therapists, home health.
It was easier to break down the scooter and load into the...
03/24/2016
Weaknesses:
Hard to use without help.
Reviewer:
edward c. from evansville, wi
User Details:
Not provided
07/08/2012
Strengths:
Well made and very sturdy
Weaknesses:
At 12 feet a little awkard for a woman to handle.
Reviewer:
jean m. from hoopeston, il (caregiver)
User Details:
Uses a power chair to get around and the ramp makes it possible for him to access pool deck and sun room. With the portablity only need the one ramp