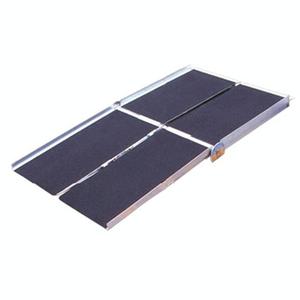 More Information on the Multi-Fold Ramp
BACK TO TOP
Reviews
Viewing 1 - 12 of 37
An inexpensive alternative for our situation
07/11/2023
Strengths:
Easy to install and use, portable if necessary
Weaknesses:
no weaknesses noted
Reviewer:
harold r. from smyrna, tn
User Details:
Age 80, male, confined to wheelchair
08/31/2022
Reviewer:
benjamin s. from high springs, fl
User Details:
Cerebellar ataxia
11/25/2019
Strengths:
The quality, durability. It will last forever-of that I am sure.
Weaknesses:
Hard to manage alone - it's quite large.
Reviewer:
philip b. from long beach, ca
User Details:
Ramp is exactly as described. Sturdy, durable, practical. Love it. I can now load my mobility chair into my van. A bit heavier than I expected.
08/18/2017
Strengths:
Light weight, easy to fold up and put in camper.
Reviewer:
barbara s. from baltimore, oh
User Details:
Got the ramp to put on camper so I can camp again, as I have both hips replaced as well as both knees. I can go up the ramp into camper. Love it!
02/04/2017
Strengths:
Fold up, light enough to carry, fits my purpose
Reviewer:
beth t. from landsdowne, pa (caregiver)
User Details:
The ramp will allow my mother and I to travel for the first time across our country with comfort. I purchased a tri motorized bicycle, two seater.
It is very strong and easy to use.
02/02/2017
Strengths:
Seams to be very strong.
Weaknesses:
It isn't easy to set up.
Reviewer:
daniel w. from san jose, ca (caregiver)
User Details:
I use it for my wife when i use the wheel chair. She is 78 years old. She has dementia and is not steady on her feet.
Only started to use it. Still a little scary using it...
11/09/2016
Reviewer:
louis j. from manchester, ia
User Details:
Wheelchair bound male
Great ramp for gaining access to the outside world.
11/06/2016
Strengths:
Seems durable.
Weaknesses:
Heavier than expected, but not a problem as it is left in place.
Reviewer:
patrick m. from portage, mi
User Details:
Sixty- eight year old male stroke survivor who requires caregiver assisted wheelchair when outside of home.
Did what it was purchased for and will be used for other...
10/23/2016
Strengths:
Was easy to transport and to unfold for use.
Reviewer:
janet c. from california city, ca
User Details:
Disabled Person in a Hoveround used to enter/exit back of Dodge Ram ProMaster vehicle until lift was installed.
The pins securing ramp must be at least doubled in length
08/13/2016
Strengths:
Can be used when $ not available for a custom made wooden ramp. Caregiver should have help if user is tall & heavy. Can be removed easily and stored, not a permanent attachment to your home.
Weaknesses:
No handrails, pins securing ramp are too short, need at least two adults to transport user.
Reviewer:
mary ann m. from columbus, oh (caregiver)
User Details:
6ft 5in male 77yrs w/multiple challenges: traumatic brain surgery, mobility challenges, early dementia, in need of several therapists, home health.
07/03/2016
Strengths:
Strong and well built.
Weaknesses:
Would be better if it was slightly lighter weight.
Reviewer:
robert b. from green valley, az
User Details:
Used for power handicap scooter to get from car into house. Ramp makes it easy to get up the steps and is a stable unit for travel with scooter.
Sturdy Constuction, does job excellently, somewhat hard to...
05/19/2016
Strengths:
Fit, finish, materials. Works great. Good value, easy to move.
Weaknesses:
Somewhat hard to set up, it's not easy for me to get the halves apart to transport and set up.
Reviewer:
william w. from petoskey, mi (caregiver)
User Details:
Not provided