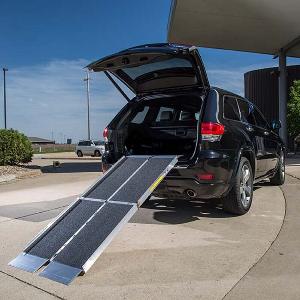 EZ-ACCESS
(Model No. SUITCASE TFAS)
VIEW ITEM
More Information on the SUITCASE® Trifold Ramp
BACK TO TOP
Reviews
Viewing 1 - 10 of 10
Product in need of burr removal, too many sharp edges.
12/01/2023
Reviewer:
al t. from fenton, mo
User Details:
Not provided
Itr's too big and heavy for my use.
06/02/2023
Strengths:
It's well built and might work for a truck and a heavy weight scooter.
Reviewer:
anne n. from tba, fl
User Details:
The ramp weighs 55 pounds. That's heavier than I can manage. It's also quite large, even folded up. It is not what I needed. 
06/11/2021
Strengths:
The ramp works as described. It is a bit heavy for me at 35 lbs but still manageable.
Reviewer:
terry o. from chatfield, mn (caregiver)
User Details:
My husband has recently started using a power wheelchair. We have a regular van but by taking out the seat and using the suitcase ramps we can go out
The 10 foot long ramp is quite unstable in the middle,...
01/07/2019
Reviewer:
michael g. from los angeles, ca
User Details:
Not provided
SUITCASE® Trifold Ramp: Review
12/09/2017
Reviewer:
ed g. from livonia, mi
User Details:
help get my scooter in the house without breaking down the scooter
It was too difficult/heavy to manipulate.
12/21/2016
Strengths:
Perfect for a strong, able-bodied man.
Weaknesses:
Too heavy for me to use. I needed something lighter to roll my husband's wheelchair into my SUV. It feels almost as heavy as the wheelchair.
Reviewer:
carl b. from campbell, ca (caregiver)
User Details:
70 year old male, disabled, practically bedridden.
Good product, but hard to work with.
07/23/2014
Strengths:
Gives a 4 ft option for a 7 ft ramp.
Weaknesses:
Overbuilt and too heavy. If you add the extended front lip to work with a minivan you lose 1/3 of the weight capacity. So who needed it in the 1st place?
Reviewer:
jeffrey s. from lorena, tx
User Details:
65 years old. The 7 foot model is ok to lift in 2 parts but very heavy and awkward as 1 piece. Trifold does not stay together.
They say they are light weight but they are heavier than I...
08/31/2013
Strengths:
They do fold up, take less space
Weaknesses:
The weight to move around
Reviewer:
john k. from lock haven, pa
User Details:
Not provided
Not as easy to set up as pictured
06/25/2011
Weaknesses:
Heavier than it looks and no as easy to set up as advertized
Reviewer:
victor m. from harrisburg, pa
User Details:
Partial paralizes
it's not that easy to open and alot heavier than expected
11/20/2010
Strengths:
Portablity, and feel safe using.
Weaknesses:
opening is not that easy for one person and the weight is deceiving and carring is difficult
Reviewer:
victor m. from harrisburg, pa
User Details:
60 years old, wheelchair need to get around