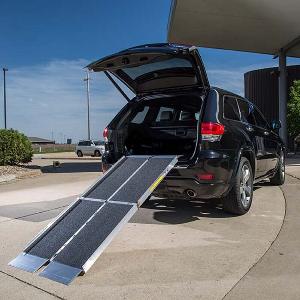 EZ-ACCESS
(Model No. SUITCASE TFAS)
VIEW ITEM
More Information on the SUITCASE® Trifold Ramp
BACK TO TOP
Reviews
Viewing 1 - 5 of 5
02/05/2022
Strengths:
concept is good
Reviewer:
joan l. from naples, fl
User Details:
my husband needed this to access our car with his scooter
05/29/2021
Reviewer:
betty g. from cortez, co (caregiver)
User Details:
Didn't work for us. Too big and heavy
Unit advertised as 38 pounds. It has to be much heavier....
12/28/2017
Strengths:
As advertised it appeared to be of great use as my wife and I like to travel. It does fold to a convenient size for packing in van and unfolds nicely to load/unload my scooter.
Weaknesses:
The item was advertised to weigh 38 pounds which my wife and I thought would be manageable. I believe it to be much heavier as neither of us was able to lift it.
Reviewer:
james j. from madison, wi
User Details:
I am 73 years old, oxygen dependent, and a 100% disabled Vet. I use an electric scooter as I'm unable to walk more than short distances.
05/29/2015
Reviewer:
neal b. from richfield, ut
User Details:
77 years old. Post-polio--can't walk upright.
Ramps are way too heavy for old folks to handle
11/02/2013
Strengths:
None for use with a 150# scooter
Weaknesses:
Overbuilt, hard to handle, looks nice from the top side but underside looks like homemade.
Reviewer:
jacqueline k. from surprise, az (caregiver)
User Details:
80 yrs walking & balance issues, ramps way too heavy, we don't use them but lift the scooter by hand.