Aero Z Series 2
The Mono-Tube design design keeps the Aero Z light in weight and also makes it a very easy chair to transport in your car.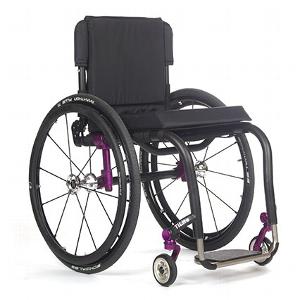 More Information on the Aero Z Series 2
BACK TO TOP
Reviews
Viewing 1 - 12 of 17
Excellent wheelchair for someone with chronic illness!
05/27/2023
Strengths:
The Aero Z is super lightweight and stylish. The first day I took it out I pushed nearly 7 miles going over sidewalks, parking lots, rough terrain and it's small and narrow enough to navigate the tightest spaces. I'm impressed with the build and ride quality and the Aero Z series 2 is easy to maintain as well. Ti-Lite has done an exceptional job with the user manual as it is quick to navigate and I highly recommend the Aero Z or similar Ti-Lite series to any new chair user!
Weaknesses:
It's tough for me to find any criticisms of this wheelchair but I do notice since I went with 26 inch wheels the side guard options seem tiny. Even the largest option (13 inches long - 7.5 tall) is still too small in my opinion.
Reviewer:
shane v. from puyallup, wa
User Details:
I'm age 30 and have moderate ME and moderate to severe POTS.
05/11/2023
Strengths:
Everything works
Weaknesses:
The footrest is low
Reviewer:
laura k. from miami beach, fl
User Details:
Not provided
04/01/2023
Reviewer:
paul b. from santa monica, ca
User Details:
Not provided
So much lighter and easier to use then my medline chair
01/03/2021
Reviewer:
kenneth l. from maiden, nc
User Details:
34 year old male, Bilater Lower Limb amputee
It is everything I wanted and more
02/13/2019
Strengths:
It is the easy disassembly and quality!
Weaknesses:
There is nothing
Reviewer:
denny j. from curtis, oh
User Details:
I am a double amputee.
Lightweight and Highly Customizable Entry Level Chair!
10/12/2017
Strengths:
My chair was delivered about a week sooner than I actually expected (likely a non-typical situation) and assembled quite easily out of the box. Appearance is beautiful and it rolls so smoothly it's almost a glide. Nearly every aspect of the chair is adjustable with a few turns of a hex key and it's crafted just down the road from me in Washington state.
Weaknesses:
Being an entry level chair, this is still a pretty heavy "ultra lightweight". The order process is rife with so many dependencies that the service rep who completed my order over the phone (a process rightly required for all custom chairs) was genuinely surprised I had no conflicts in my build. The back upholstery may be my biggest gripe as the options available at my time of order left much to be desired. As it is with a 13.5' backrest height the air breathable backrest stretches from the front of the bottom velcro, up over the tension straps, and back down under the chair far enough that the pouch is horizontal and the end of the material reaches beyond the beginning. Oh, and though it isn't clear anywhere here or in TiLite's materials, get the 4' backrest rigidizer. The standard is curved and about 2' at it's deepest, I believe. The 4' will allow for future or current upgrades like a hard back or a set of that luggage that clips onto the bar.
Reviewer:
john f. from winslow, az
User Details:
Not provided
09/22/2017
Strengths:
Very well built and solid feel. Happy with the chair.
Weaknesses:
Excessive time from order to delivery. Have not found weakness yet.
Reviewer:
frank b. from collierville, tn
User Details:
100% disabled vet. Have used power chairs. Manual chairs, and scooters for over 15 years.
I am extremely pleased with this product.
08/31/2017
Strengths:
Comfort, fit & function.
Weaknesses:
No weaknesses!
Reviewer:
mary b. from dallas, tx
User Details:
I am a 73 year old lady born with Spina bifida. Have little use of legs and feet because of congential deformities.
Easy to travel and simple to use.
07/17/2017
Strengths:
Lightweight and easy to disassemble to put in the car.
Weaknesses:
Foot pad is not protected from the wheels or from sliding backwards.
Reviewer:
laura k. from miami beach, fl
User Details:
I am female, over 60.
Great quality chair, has absolutely given me my life back.
10/07/2016
Strengths:
Frame is incredibly strong and lightweight - I end up using it as a battering ram on city curb cuts sometimes and it holds up fine.
Weaknesses:
The seatbelt didn't come with adequate installation instructions, but I figured it out.
Reviewer:
erin s. from chester, ny
User Details:
23 year-old graduate student with autonomic dysregulation and muscular atrophy.
Best maker of chairs on the market !
12/04/2015
Strengths:
Easy to control, lightweight,easy to disassemble. Durability
Weaknesses:
Still in search of one, lol
Reviewer:
robert d. from brooklyn, ny
User Details:
I have had 5 spine surgeries in the last 7 years and got a progressive nerve disease in both legs and feet , from one of them. It's called CRPS/RSD.
If you are in good shape and strong, this is fabulous!
10/17/2014
Strengths:
It is so light, it is designed for the user to propel (center of gravity, range of motion, etc.
Weaknesses:
The ordering process is ambiguous. There was no indication which things were an additional cost. It gave me no way to prioritize what features I wanted.
Reviewer:
patricia c. from philadelphia, pa
User Details:
43, multiple sclerosis, working full-time