Aero Z Series 2
The Mono-Tube design design keeps the Aero Z light in weight and also makes it a very easy chair to transport in your car.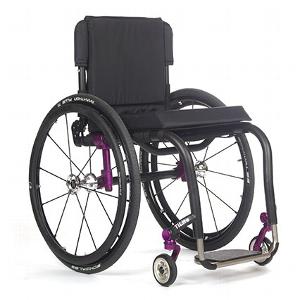 More Information on the Aero Z Series 2
BACK TO TOP
Reviews
Viewing 1 - 4 of 4
06/11/2021
Strengths:
Lightweight, ease of use.
Weaknesses:
The width of wheels from the frame when you put clothing guards on. They can rub on the wheel so if the cushion is wide. Also putting anti tip bars on are a pain and way too much work.
Reviewer:
tom o. from grimes, ia
User Details:
Paraplegic who uses in the home and when I have to walk long distances
A good quality wheelchair with style.
03/15/2019
Strengths:
This is a smooth ride that is well-made and durable. It has more the feel of a nice bike than a piece of medical equipment, so it isn't depressing to have it around. The welds are good and the paint finishes are smooth. I got the most basic back but so far it provides decent support and is comfortable.
Weaknesses:
I would say the main weakness is not so much in the product itself and more the lack of access to a brick-and-mortar setting where different chairs can be experienced in real life, before making a selection. A chair of this quality is a big financial investment and it is nearly impossible to make all the decisions for finishes and set-up sight unseen. The man who helped me place my order on the phone was patient and helpful, but he could not know (because I didn't either) that I would end up wishing the footplate was set higher or that I'd chosen better quality brakes and clothing guards. It would be so helpful to be able to see, touch and try out these very personal products before placing an order.
Reviewer:
karen c. from atlanta, ga
User Details:
Female, age 58, AK amputee, right side. Uses wheelchair when not using prosthetic leg.
03/31/2017
Strengths:
Well built. Straight foot rest (90 degree) not angled straight out.
Weaknesses:
Can't pop a wheelie to get over bumps because of cant. With cant, wheels are 31 1/2 inches, can't get through some doors.
Reviewer:
terry s. from taos, nm
User Details:
Not provided
07/18/2012
Strengths:
a 65 degree angle option is needed, rear wheel axle needs a cap to protect metal under side of foot plate will hit gound, needs some type of bumper plastic protection
Reviewer:
john b. from hoffman estates, il
User Details:
Not provided