Aero Z Series 2
The Mono-Tube design design keeps the Aero Z light in weight and also makes it a very easy chair to transport in your car.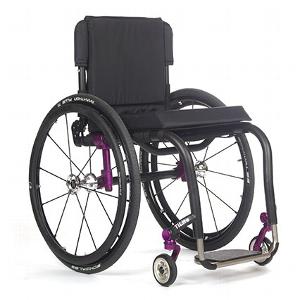 More Information on the Aero Z Series 2
BACK TO TOP
Reviews
Viewing 1 - 12 of 19
06/11/2021
Strengths:
Lightweight, ease of use.
Weaknesses:
The width of wheels from the frame when you put clothing guards on. They can rub on the wheel so if the cushion is wide. Also putting anti tip bars on are a pain and way too much work.
Reviewer:
tom o. from grimes, ia
User Details:
Paraplegic who uses in the home and when I have to walk long distances
So much lighter and easier to use then my medline chair
01/03/2021
Reviewer:
kenneth l. from maiden, nc
User Details:
34 year old male, Bilater Lower Limb amputee
A good quality wheelchair with style.
03/15/2019
Strengths:
This is a smooth ride that is well-made and durable. It has more the feel of a nice bike than a piece of medical equipment, so it isn't depressing to have it around. The welds are good and the paint finishes are smooth. I got the most basic back but so far it provides decent support and is comfortable.
Weaknesses:
I would say the main weakness is not so much in the product itself and more the lack of access to a brick-and-mortar setting where different chairs can be experienced in real life, before making a selection. A chair of this quality is a big financial investment and it is nearly impossible to make all the decisions for finishes and set-up sight unseen. The man who helped me place my order on the phone was patient and helpful, but he could not know (because I didn't either) that I would end up wishing the footplate was set higher or that I'd chosen better quality brakes and clothing guards. It would be so helpful to be able to see, touch and try out these very personal products before placing an order.
Reviewer:
karen c. from atlanta, ga
User Details:
Female, age 58, AK amputee, right side. Uses wheelchair when not using prosthetic leg.
It is everything I wanted and more
02/13/2019
Strengths:
It is the easy disassembly and quality!
Weaknesses:
There is nothing
Reviewer:
denny j. from curtis, oh
User Details:
I am a double amputee.
08/31/2018
Weaknesses:
Arm rests & wheeles poor quality control
Reviewer:
maxwell w. from adams, ma
User Details:
Max Williamson is double amputee and user of wheelchair . Problems left wheel has 3 spokes ready to fall off. Arm rests are horrible kill your arms.
Lightweight and Highly Customizable Entry Level Chair!
10/12/2017
Strengths:
My chair was delivered about a week sooner than I actually expected (likely a non-typical situation) and assembled quite easily out of the box. Appearance is beautiful and it rolls so smoothly it's almost a glide. Nearly every aspect of the chair is adjustable with a few turns of a hex key and it's crafted just down the road from me in Washington state.
Weaknesses:
Being an entry level chair, this is still a pretty heavy "ultra lightweight". The order process is rife with so many dependencies that the service rep who completed my order over the phone (a process rightly required for all custom chairs) was genuinely surprised I had no conflicts in my build. The back upholstery may be my biggest gripe as the options available at my time of order left much to be desired. As it is with a 13.5' backrest height the air breathable backrest stretches from the front of the bottom velcro, up over the tension straps, and back down under the chair far enough that the pouch is horizontal and the end of the material reaches beyond the beginning. Oh, and though it isn't clear anywhere here or in TiLite's materials, get the 4' backrest rigidizer. The standard is curved and about 2' at it's deepest, I believe. The 4' will allow for future or current upgrades like a hard back or a set of that luggage that clips onto the bar.
Reviewer:
john f. from winslow, az
User Details:
Not provided
09/22/2017
Strengths:
Very well built and solid feel. Happy with the chair.
Weaknesses:
Excessive time from order to delivery. Have not found weakness yet.
Reviewer:
frank b. from collierville, tn
User Details:
100% disabled vet. Have used power chairs. Manual chairs, and scooters for over 15 years.
I am extremely pleased with this product.
08/31/2017
Strengths:
Comfort, fit & function.
Weaknesses:
No weaknesses!
Reviewer:
mary b. from dallas, tx
User Details:
I am a 73 year old lady born with Spina bifida. Have little use of legs and feet because of congential deformities.
Easy to travel and simple to use.
07/17/2017
Strengths:
Lightweight and easy to disassemble to put in the car.
Weaknesses:
Foot pad is not protected from the wheels or from sliding backwards.
Reviewer:
laura k. from miami beach, fl
User Details:
I am female, over 60.
03/31/2017
Strengths:
Well built. Straight foot rest (90 degree) not angled straight out.
Weaknesses:
Can't pop a wheelie to get over bumps because of cant. With cant, wheels are 31 1/2 inches, can't get through some doors.
Reviewer:
terry s. from taos, nm
User Details:
Not provided
Great quality chair, has absolutely given me my life back.
10/07/2016
Strengths:
Frame is incredibly strong and lightweight - I end up using it as a battering ram on city curb cuts sometimes and it holds up fine.
Weaknesses:
The seatbelt didn't come with adequate installation instructions, but I figured it out.
Reviewer:
erin s. from chester, ny
User Details:
23 year-old graduate student with autonomic dysregulation and muscular atrophy.
Best maker of chairs on the market !
12/04/2015
Strengths:
Easy to control, lightweight,easy to disassemble. Durability
Weaknesses:
Still in search of one, lol
Reviewer:
robert d. from brooklyn, ny
User Details:
I have had 5 spine surgeries in the last 7 years and got a progressive nerve disease in both legs and feet , from one of them. It's called CRPS/RSD.