Curve
Basic cushion with defined contouring provides comfort and support for those at low risk for skin breakdown.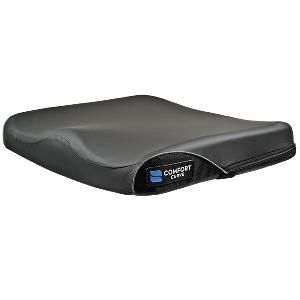 More Information on the Curve
BACK TO TOP
Reviews
Viewing 1 - 12 of 111
09/23/2022
Reviewer:
lynn j. from hartford, ct
User Details:
I'm 73 and can't stand up, so sm in my wheelchair all day. Comfort cre makes this possible.
Great wheelchair cushion, great price.
06/08/2022
Strengths:
comfortable, cover washable, durable, tends to stay clean
Weaknesses:
slightly heavy, velcro sticks a bit too well
Reviewer:
richard s s. from wrentham, ma
User Details:
BKA both legs, have one prosthesis and other will come, RA, diabetes, 82 years old, still take care of myself.
Better than earlier version which is about 8 years old
02/13/2022
Reviewer:
george b. from glen allen, va
User Details:
BKA right leg
Made traveling in our car much more comfortable.
09/15/2021
Strengths:
solid, comfortable, good size.
Weaknesses:
I had no problems.
Reviewer:
steven w. from ann arbor, mi
User Details:
66 years old, severe arthritis in knee.
08/26/2021
Reviewer:
john j. from russellville, tn (caregiver)
User Details:
Disabled 78 year old woman
06/18/2021
Strengths:
waterproof and tough
Weaknesses:
should be a little more molded like your but
Reviewer:
kathleen g. from elyria, oh
User Details:
comfortable easy to clean
serves me well and I would buy another one if needed
06/14/2021
Strengths:
Durable and long lasting, great for a computer chair or desk chair or watching tv plus I have tried the gel pads and this works very well in the chair I need it too, very comfortable and I am not a young pup and definitely helps relieve the stress....
Weaknesses:
have not found any, as stated had gotten one years ago and it is still in use, just needed it for desk chair....
Reviewer:
elvy t b. from morganton, nc
User Details:
I sit a great deal and needed another one for another chair to assist with a tired back and boney fanny...
Great budget option if you don't need something special.
11/06/2020
Strengths:
Quality for the price
Reviewer:
aaron s. from fallon, nv
User Details:
50yrs old, 240lbs was once 6'2" double lower limb amputee
It's that you're fine came just as ordered
08/16/2020
Weaknesses:
Wish you could come with velcro to fasten into the seat
Reviewer:
david b. from colbert, ok
08/14/2020
Reviewer:
ellen d. from leesburg, fl
User Details:
86 yr.old frmale in the chair about 12 hrs.
Very comfortable cushion for wheelchair.
07/26/2020
Strengths:
Fits seat perfectly. very comfortable, adds seat to floor height.
Reviewer:
william y. from hudson, fl
User Details:
70 year old mobility impaired male. Uses a wheelchair most of the time.
Thank you for making our lives easier!
07/17/2020
Strengths:
It helps keeping his legs aligned as well as make him comfortable.
Reviewer:
amy p. from cicero, ny (caregiver)
User Details:
My husband uses this cushion in his wheelchair and loves how comfortable it is.