Pursuit PMV
A scooter with outstanding performance and high class style.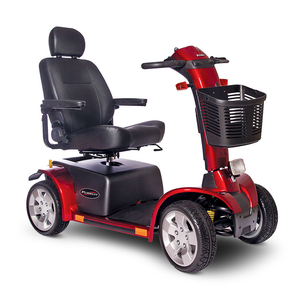 More Information on the Pursuit PMV
BACK TO TOP
Reviews
Viewing 1 - 12 of 26
10/31/2019
Reviewer:
jill c. from tracy, ca
User Details:
Not provided
It is not easy to make seat adjustments
08/11/2019
Strengths:
It gives me a sense of security when I ride on uneven ground.
Reviewer:
michael g. from township of washington, nj
User Details:
90 years of age, needs cane to get around short distance or a walker.
Heavy duty and excellent quality.
08/09/2019
Strengths:
Power and speed.
Reviewer:
john h. from spring, tx
User Details:
69 year old man losing the use of his legs and sense of balance.
Very stable, multi-speed, well made and comfortable.
06/17/2019
Strengths:
Two speed modes, with variations with speed knob. Can use left or right hand to accelerate. Big wheel allows going over uneven ground. Lots of feet room for me and my dog. Good lighting package. Very stable on incline like driveways. Fun to drive.
Reviewer:
randall j. from arcadia, ca
User Details:
Very easy to drive. The choices of slow mode and fast with variable speed buttons keeps me slow or fast when I need it. Comfortable seat. FUN !
02/08/2019
Reviewer:
alan s. from ocala, fl
User Details:
male age 73 unable to walk at all. This was my second scotter. I also have a 3 wheel for malls and doctors app.
10/31/2018
Reviewer:
alan s. from ocala, fl
User Details:
Not provided
It's a great machine, will recommend it to my family and...
11/08/2017
Weaknesses:
Headlight and tires.
Reviewer:
richard b. from monroe, wi
User Details:
I am 60 years old and weigh 350 lbs. This machine has plenty of power the only thing they could improve are the tires. I wish it had rubber tires.
Should be for someone that is lighter.
06/30/2017
Strengths:
Some what fast.
Weaknesses:
Not for someone that is 160 lbs.
Reviewer:
ronald c. from owatonna, mn
User Details:
Can not walk very far.
01/08/2017
Strengths:
I very happy to use my scooter.
Weaknesses:
Because my legs are very weaknesses and I keep going to DR, Said 50% my legs,so I use for treadmill & still pain,walk about 1/2 a mile start pain.. So can you send me for who will for serviceman that I need repair? PLEASE SEND ME,OK. THANK YOU JOSEPH MAYNARD
Reviewer:
joseph m. from clinton, ny
User Details:
I'm deaf person, so I really like scooter. So I need Parts catalog for orders! But,because I don't have medicaid and medicare will not cover.
11/11/2015
Strengths:
Comfortable, stable, fast, and easy on and off.
Weaknesses:
I wish it had a built-in cane holder and a louder horn.
Reviewer:
david h. from coraopolis, pa
User Details:
I am a 72-year-old male and have had primary progressive MS for 23 years. This is my fourth scooter and first four-wheel unit. I use my scooter outsid
FUNCTIONAL SCOOTER THAT NEEDS IMPROVEMENTS
09/18/2015
Strengths:
This scooter is stylish and seat is comfortable. With the upgraded 70 amp batteries, I've traveled over 15 miles and have not seen the battery meter indicate a ½ charge state. The scooter has sufficient power to move a large person around town. The turning radius is sufficient enough to operate inside major grocery/department stores with ease.
Weaknesses:
The horn on this unit is so quiet and ineffective it creates a safety hazard. It is not loud enough to perform the duties of a real horn which is to attract the attention of pedestrians or vehicles in a dangerous situation. Be aware that even with the suspension and foam filled tires the scooter has a very rough ride.. The steering is extremely light and requires constant correction on bumpy sidewalks.. Within 3 weeks of operation, it developed a severe creaking sound in the front end I sprayed silicone oil at the base of the steering column and the creaking stopped for now. This suggests improper lubrication of the front end components from the factory. It does have torque issues on slow speed on steeper inclines which can be overcome by increasing speed before the incline. The front light is way too dim for safe night use.
Reviewer:
robert g. from carson city, nv (caregiver)
User Details:
91 year old WWII and Korean war veteran. Range of walking limited.
05/21/2015
Weaknesses:
It no longer has any speed. It lacks any acceleration, it creaks like an antique chair. I don't feel comfortable traveling too far from home.
Reviewer:
miguel r. from new york, ny
User Details:
I use the scooter to travel distances, due to a severe heart condition.