Pursuit PMV
A scooter with outstanding performance and high class style.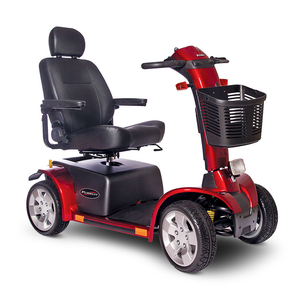 More Information on the Pursuit PMV
BACK TO TOP
Reviews
Viewing 1 - 1 of 1
FUNCTIONAL SCOOTER THAT NEEDS IMPROVEMENTS
09/18/2015
Strengths:
This scooter is stylish and seat is comfortable. With the upgraded 70 amp batteries, I've traveled over 15 miles and have not seen the battery meter indicate a ½ charge state. The scooter has sufficient power to move a large person around town. The turning radius is sufficient enough to operate inside major grocery/department stores with ease.
Weaknesses:
The horn on this unit is so quiet and ineffective it creates a safety hazard. It is not loud enough to perform the duties of a real horn which is to attract the attention of pedestrians or vehicles in a dangerous situation. Be aware that even with the suspension and foam filled tires the scooter has a very rough ride.. The steering is extremely light and requires constant correction on bumpy sidewalks.. Within 3 weeks of operation, it developed a severe creaking sound in the front end I sprayed silicone oil at the base of the steering column and the creaking stopped for now. This suggests improper lubrication of the front end components from the factory. It does have torque issues on slow speed on steeper inclines which can be overcome by increasing speed before the incline. The front light is way too dim for safe night use.
Reviewer:
robert g. from carson city, nv (caregiver)
User Details:
91 year old WWII and Korean war veteran. Range of walking limited.