Pursuit PMV
A scooter with outstanding performance and high class style.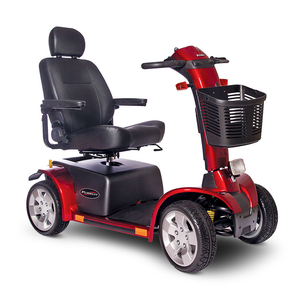 More Information on the Pursuit PMV
BACK TO TOP
Reviews
Viewing 1 - 12 of 19
10/31/2019
Reviewer:
jill c. from tracy, ca
User Details:
Not provided
Heavy duty and excellent quality.
08/09/2019
Strengths:
Power and speed.
Reviewer:
john h. from spring, tx
User Details:
69 year old man losing the use of his legs and sense of balance.
Very stable, multi-speed, well made and comfortable.
06/17/2019
Strengths:
Two speed modes, with variations with speed knob. Can use left or right hand to accelerate. Big wheel allows going over uneven ground. Lots of feet room for me and my dog. Good lighting package. Very stable on incline like driveways. Fun to drive.
Reviewer:
randall j. from arcadia, ca
User Details:
Very easy to drive. The choices of slow mode and fast with variable speed buttons keeps me slow or fast when I need it. Comfortable seat. FUN !
02/08/2019
Reviewer:
alan s. from ocala, fl
User Details:
male age 73 unable to walk at all. This was my second scotter. I also have a 3 wheel for malls and doctors app.
10/31/2018
Reviewer:
alan s. from ocala, fl
User Details:
Not provided
It's a great machine, will recommend it to my family and...
11/08/2017
Weaknesses:
Headlight and tires.
Reviewer:
richard b. from monroe, wi
User Details:
I am 60 years old and weigh 350 lbs. This machine has plenty of power the only thing they could improve are the tires. I wish it had rubber tires.
01/08/2017
Strengths:
I very happy to use my scooter.
Weaknesses:
Because my legs are very weaknesses and I keep going to DR, Said 50% my legs,so I use for treadmill & still pain,walk about 1/2 a mile start pain.. So can you send me for who will for serviceman that I need repair? PLEASE SEND ME,OK. THANK YOU JOSEPH MAYNARD
Reviewer:
joseph m. from clinton, ny
User Details:
I'm deaf person, so I really like scooter. So I need Parts catalog for orders! But,because I don't have medicaid and medicare will not cover.
11/11/2015
Strengths:
Comfortable, stable, fast, and easy on and off.
Weaknesses:
I wish it had a built-in cane holder and a louder horn.
Reviewer:
david h. from coraopolis, pa
User Details:
I am a 72-year-old male and have had primary progressive MS for 23 years. This is my fourth scooter and first four-wheel unit. I use my scooter outsid
Well done; we were very impressed with this product
05/02/2015
Strengths:
Strong, fast, comfortable with advanced features
Weaknesses:
Packaging was damaged and some parts missing
Reviewer:
ian f. from plano, tx (caregiver)
User Details:
Excellent product much improved over previous models.We have two others.
Excellent product and service
04/09/2015
Reviewer:
raymond d. from elroy, wi
User Details:
Severe osteoarthritis. Not a good candidate for joint replacement due to circulation issues. Scooter allows me to go to local park with my grandchildr
This is a very good scooter.
09/19/2014
Strengths:
Comfort, speed, lights, size.
Weaknesses:
It can be hard getting up some wheelchair ramps.
Reviewer:
joseph h. from glassboro, nj
User Details:
I'm 65 years old and have trouble walking because of lower back, knee and hip issues.
09/10/2014
Strengths:
Easy seat access. Disabled person has the ability to access seat from his strong side. The swivel chair and standup arms are perfect. The large tires allow him access to outdoors at home and at camp. Ability to access backyard for the first time in 3 years. Ability to ride/walk the camp roads. This product is a "small piece of heaven" and freedom for my man!!! For the first time in 4 years, we walked our dog together. Thank you for this Pride Product.
Weaknesses:
As of right now we have found no weaknesses with our Pride Mobility Scooter.
Reviewer:
jean r. from gladstone, mi (caregiver)
User Details:
85, right leg amputated above the knee