Pursuit PMV
A scooter with outstanding performance and high class style.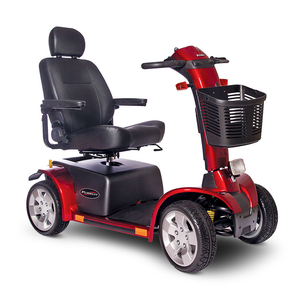 More Information on the Pursuit PMV
BACK TO TOP
Reviews
Viewing 1 - 5 of 5
It is not easy to make seat adjustments
08/11/2019
Strengths:
It gives me a sense of security when I ride on uneven ground.
Reviewer:
michael g. from township of washington, nj
User Details:
90 years of age, needs cane to get around short distance or a walker.
Should be for someone that is lighter.
06/30/2017
Strengths:
Some what fast.
Weaknesses:
Not for someone that is 160 lbs.
Reviewer:
ronald c. from owatonna, mn
User Details:
Can not walk very far.
Not as fast as my last one, it's squeaks all the time. Love...
03/27/2015
Strengths:
It's heavy duty versus lightweight machine
Weaknesses:
Not fast enough in low gear
Reviewer:
walter m. from fort worth, tx
User Details:
Late 70s, trouble getting around ankles and arthritis problems. Use the scooter in our acreage goes from house to shop out in the field drive on turf
08/24/2013
Weaknesses:
Should be offered with foam filled flat free tires for softer outdoor ride.
Reviewer:
david j. from fayetteville, ga
User Details:
Age 74. Stroke survivor, right hand, arm, and foot partially useless
With a caveat that this scooter is intense
09/01/2012
Strengths:
Made well, stable as far as turning over. High off the ground. Plenty of room to mount and dismount. Very sturdy built. Like low profile solid tires.
Weaknesses:
Jerky operation. Drive side is with the left hand. The throttle is too small(should be longer and wider. The indicator for fast(Rabbit) and slow(Turtle) is backwards. "D" steering wheel needs an opening in the back to allow you to hang work implemente on it(such as clippers, large pocket knife).
Reviewer:
furman n. from chatsworth, ga
User Details:
71 Years old and cannot walk due to MS. I love to vegetable garden hence the need for a scooter.