Gel "E" 2
Basic gel cushion is available in one size only and is 2" high.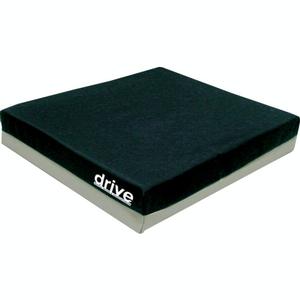 More Information on the Gel "E" 2
BACK TO TOP
Reviews
Viewing 1 - 12 of 15
Drive Medical Gel "E" 2: Review
01/06/2022
Reviewer:
rita c. from lakeland, ga
User Details:
Not provided
has helped pain issue i have in right hip
04/21/2021
Strengths:
durable // lasting // easy to clean
Weaknesses:
only lasted 1 year
Reviewer:
william m. from cadiz, oh
User Details:
70 year old male with pls // weight 185 // in a wheelchair 12 hours a day
10/16/2017
Strengths:
Very durable & comfortable.
Weaknesses:
Too heavy & too large.
Reviewer:
joan d. from west babylon, ny
User Details:
78 year old female with above knee amputation.
08/14/2017
Strengths:
Eliminates soreness.
Weaknesses:
Still waiting to see how long it stays effective.
Reviewer:
gail s. from gardener, me (caregiver)
User Details:
Helps delete soreness of bottom.
Met expectations for support and comfort.
12/30/2015
Strengths:
Comfort, easy care
Weaknesses:
Options for firmness levels would be optimum
Reviewer:
mary e. from bradenton, fl
User Details:
89 year old female with no major health issues (cancer, heart, diabetes) but limited mobility due to osteoporosis and spinal weakness
So far it's good, let's give it 6 months
01/23/2015
Reviewer:
wes m. from hastings, ne (caregiver)
User Details:
Blind, lost a leg due to diabetes, 80 years of age
06/19/2014
Reviewer:
alice e. from imperial beach, ca (caregiver)
User Details:
90 year old female with mobility difficulties
07/19/2013
Strengths:
These cushions are heavy; therefore they stay in place and mold to the contours of my car seat and don't shift as I get in and out of the car.
Weaknesses:
The fabric used in the cushions cause some contact perspiration when sitting on them for long trips.
Reviewer:
marie m. from gaithersburg, md
User Details:
I am small in stature and therefore need some cushioning on the seat of the car I drive.
04/19/2013
Strengths:
well made, fair price
Reviewer:
james p. from proctorville, oh (caregiver)
User Details:
stroke, arm and hand(Right)disabled, leg(right)75 percent use
Just about what I was looking for
04/06/2012
Strengths:
Ease of use from place to place
Reviewer:
kenneth n. from red lion, pa
User Details:
I am a 64 year old male who has MS. I do spend a great deal of time in a seated position and the "Gel "E" 2" Cushion makes it more comfortable.
01/26/2011
Reviewer:
patricia o. from seattle, wa
User Details:
I am 82 and have MS and a pressure sore on my tush that I am hoping to cure and keep from returning, I use the Drive cushion in my armchair.
10/16/2010
Weaknesses:
some way to make it cooler to sit on
Reviewer:
rebecca e. from dublin, tx (caregiver)
User Details:
87 has to sit most of the time so it was purchased to sit on in a chair. The only complaint she has given me is it gets hot.