Lightweight Transport Chair
Weighing in at 19 lbs, the Lightweight Transport Chair is extremely light, while its standard features and colors offer style and safety as you ride.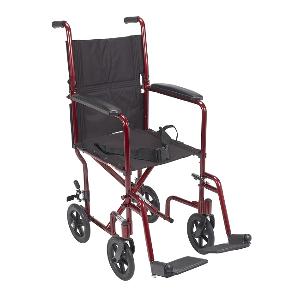 More Information on the Lightweight Transport Chair
BACK TO TOP
Reviews
Viewing 1 - 3 of 3
Lightweight and easy to maneuver through doorways
01/19/2019
Strengths:
Well engineered
Weaknesses:
None, perfectly meets our needs.
Reviewer:
william m. from palos hills, il (caregiver)
User Details:
Age:76. Right leg amputee
Do Not Buy--Latest version cheap and unsafe
02/07/2015
Weaknesses:
The 17" chair we bought two months ago was a little too narrow, so we ordered the 19". I am frustrated and horrified at the difference in quality of the wheels and brakes. Maybe the 17" was less popular and sat on the shelf longer, and so we received a slightly older version, and the 19" was newer, revised design with a few corners cut to make the price point. The wheels on the old chair seem to be made of rubber; the "composite" material of the new chair's wheels had grooves in it from the brakes after one use, now the brakes are shaving off ribbons of plastic from the wheels. The brake assemblies on the old chair were bolted THROUGH the frame in addition to the two bolts around the frame. The new chair is not bolted through the frame so the brake can rotate around the frame. When returned to its intended position, the brake will not contact the wheel with enough pressure to stop movement of the wheel. This renders the chair unsafe for any use, and since the chair is now used (just once!), it cannot be returned. I contacted Spinlife, who contacted the manufacturer, who replied, "It is a design change. Tell them to tighten the bolts." I did tighten them, but the brakes, even in the correct position still slip. DO NOT BUY THIS CHAIR. IT IS UNSAFE.
Reviewer:
gemma m. from abingdon, va (caregiver)
User Details:
68, Parkinson's
Lightweight Transport Chair: Review
02/07/2015
Reviewer:
gemma m. from abingdon, va (caregiver)
User Details:
68, Parkinson's