Lightweight Transport Chair
Weighing in at 19 lbs, the Lightweight Transport Chair is extremely light, while its standard features and colors offer style and safety as you ride.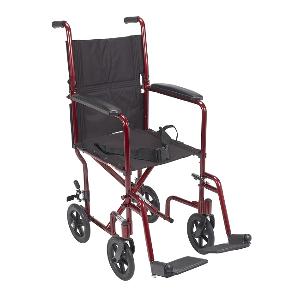 More Information on the Lightweight Transport Chair
BACK TO TOP
Reviews
Viewing 1 - 12 of 325
10/25/2022
Strengths:
Lite, easy to load.
Weaknesses:
We had to make adjustments to to back fo the chair because it would not click into place.
Reviewer:
george s. from seymour, mo
User Details:
78 yr old has difficulty walking and has copd.
Lightweight wheeled chair for caregivers of a certain age.
10/24/2022
Strengths:
LOVE that it only weighs 19 lbs as I have been dealing with a chair that weighed almost 40 lbs. This chair goes from folded to ready in seconds!
Weaknesses:
This may be something that my inexperience with this chair has yet to be discovered but I don't like that the foot rests must be installed/removed each use. I will investigate.
Reviewer:
dayle h j. from montery, tn (caregiver)
User Details:
Male, age 76, recently diagnosed with Parkinson's disease but also has some heart problems that require meds that have some dizzying effects.
09/26/2022
Strengths:
light and compact
Reviewer:
mary s. from gahanna, oh (caregiver)
User Details:
Parkinson's disease
07/29/2022
Strengths:
Light, sturdy, portable, works even outdoors on uneven unpaved terrain. It has let me go a lot of places.
Weaknesses:
The plastic began cracking after 15 years of heavy use. Not much of a weakness.
Reviewer:
nina w. from menlo park, ca
User Details:
I need something light, sturdy and portable. My first Drive Medical lightweigh transport chair lasted about 15 years. Glad to have a new one!
great product works with ease through narrow areas
07/21/2022
Reviewer:
john s. from yorktown heights, ny (caregiver)
User Details:
95-year-old person
Gives the user mobility and freedom to stay active.
06/25/2022
Strengths:
Easy to handle,comfortable,great for travel.
Weaknesses:
None. Many ask where they can purchase one.
Reviewer:
mitchell j. from sodus, ny (caregiver)
User Details:
Lite weight, user is 87. Alzheimers patient. Walking a problem. Likes to travel. Chair is great for air and cruise travel.
Very lightweight, easy to fold and lift
04/28/2022
Strengths:
Priced higher than a Medline chair I purchased for another application. However it was smaller (better for the patient), narrower (fits all entryways) and well made
Weaknesses:
I would have preferred hand braking system. One of the clips to fold the back support was faulty when it arrived. A replacement was shipped promptly at no cost.
Reviewer:
elizabeth p. from rochester, wa (caregiver)
User Details:
My mother, 87, fell and fractured her femur a year ago. She is also having short term memory issues, so a transport chair gave me peace of mind.
for the cost, you couldn't beat it
02/15/2022
Strengths:
We used it only once in a snow storm, it held up pretty good. can't wait to keep using it
Reviewer:
kim v. from sterling heights, mi (caregiver)
User Details:
the fact that it is light weight, easy to break down and put back up. easy to push.
01/08/2022
Weaknesses:
do not know /maybe longevity
Reviewer:
james f k. from austin, tx
User Details:
Not provided
I cannot say more than exceptional exactly what I needed,...
09/15/2021
Strengths:
Exactly that it has ALLu need and more
Weaknesses:
I have not found any!!!
Reviewer:
cynthia p. from south windsor, ct
User Details:
Not provided
07/30/2021
Strengths:
Ease of use, small size when folded up, light weight
Weaknesses:
Had to wait several weeks to get the desired blue color. otherwise no weaknesses
Reviewer:
william c. from loveland, co (caregiver)
User Details:
Used to transport my wife to and from the car and into various appointments. It's lightest and easily fold up. The blue color is distinctive & bright.
07/09/2021
Strengths:
Lightweight, easy to maneuver
Weaknesses:
Arms cannot be removed for transport
Reviewer:
juanita w. from eclectic, al (caregiver)
User Details:
We purchased this wheelchair to be able to fit my mother into our bathroom doors. The handles do not remove so we are still using a portable commode.