Fly-Lite
Featuring awesome plaid upholstery, the Fly-Lite is not only one of the lightest chairs we offer, it's the perfect choice for easy travel and storage.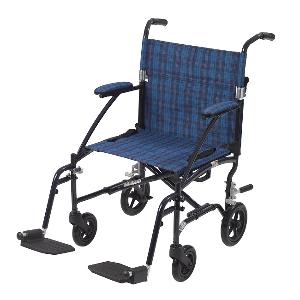 More Information on the Fly-Lite
BACK TO TOP
Reviews
Viewing 1 - 3 of 3
Second identical chair, with brake difficulties that should...
11/24/2018
Strengths:
Low weight, and folded, fits into the rear of our station wagon vertically, taking up very litle space.
Weaknesses:
Refer above. Additionally, tires for the chair are overpriced. Cheaper to buy a new chair then spend over $100.00 to replace rear tires. Simple brake adjustment correction would fix the problem. Same unsatisfactory design as the one purchased in 2011. Sad:-(
Reviewer:
rf l. from parkton, md (caregiver)
User Details:
Not provided
The brake pedals and the levers for lifting are not easy to...
09/11/2015
Strengths:
Appearance and construction.
Weaknesses:
The brake pedals and the levers for lifting over obstacles are not well designed. Too much effort is required to use these. As a result, I had to return this transport chair.
Reviewer:
tom a. from pasadena, ca (caregiver)
User Details:
My wife, age 93, cannot walk without assistance. The transport chair is used to move her around the house and for outside activities.
06/11/2015
Strengths:
It is light and easy to fold
Weaknesses:
Foot supports are too far apart. I think my mother would be more comfortable if her feet were in front of her rather than off to each side
Reviewer:
nancy i. from new york, ny (caregiver)
User Details:
99 years old Poor balance Poor eye sight Can't walk long distances